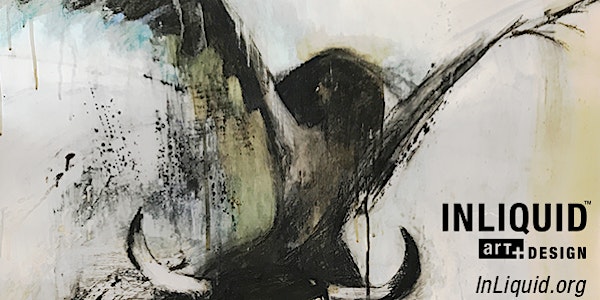 "Winged Woman" Artist Receptions - April 6
When and where
Location
Painted Bride Art Center 230 Vine Street Philadelphia, PA 19106
Description
Join InLiquid for a special artist reception for our two all-women exhibitions at The Painted Bride on April 6th, 5-7pm!
The First Friday event will feature the rescheduled reception for Winged Woman: The Art of Arlene Love and Contemporary Parallels, which includes artists: Arlene Love, Shaina Craft, Phyllis Gorsen, Makeba "KEEBS" Rainey, Maria Möller, Lauren Rinaldi.
Winged Woman revolves around the artwork of Arlene Love, a pioneering feminist artist whose career spans several decades. Throughout the stages of her career, Love has worked with a wide variety of media, including sculpture, drawing, photography, and public art. Thematically, she was often engaged with the nature of the human condition, and as her own role as a woman in society. Her life and work serve as a precedent for young artists and activists today. This exhibition pairs her work with the work of a new generation of women artists, currently working within the same media and thematic range as Love. The exhibition seeks to view Love's work in a contemporary context, and examine the parallels of the political climate of the 1970's and 2018.
The exhibition will be activated by engaging programming, including an Artist Talk with Arlene Love on Depictions of Women in Advertisements on Friday, March 23 6-8pm.
Winged Woman seeks to establish a connection between the generations in order to build upon a worthy legacy, and inform and empower contemporary women artists. Show will be on view March 2 – April 6, 2018.
---
Also join us for the Opening Reception for Winged Woman: Three Perspectives.
The exhibition extends an examination of artist Arlene Love's work through the multimedia drawing and painting of three makers: Andrea Caldarise, Nancy Halbert and Sutton Hays. As a group, they display a confluence of insistently personal methods and allusions to influential systems from without. Their practices are useful parallels to Love's; her works in the accompanying exhibition produce social critique in referencing hegemonic symbolic structures - like certain fashion, animal or religious iconography - while being composed of expressive, powerfully raw mark making. The results are both alluring and discomfiting. Likewise, Caldarise, Halbert, and Hays unite in representing multiple positions at once. A partial log of their subject matter reveals their attention to both interior and exterior, to surface and the unseen: sequences in the landscape, human bodies, parallel dimensions, and decorative patterning are a few. While there is a sense that something particular fixes their attention, their images often boil over with organized excess. They each make space to represent the piling up of information and material existing in the orbit of clarity. In the context of Love's work that focuses on how the body and its image can be captured and energized, the artists in this exhibition bring intense focus to some of the peripheral forces that mold consciousness at a given moment.
Winged Woman: Three Perspectives runs from March 20 - April 11, 2018 in the Cafe Gallery at The Painted Bride.
The Painted Bride gallery spaces are open to the public Tuesday-Saturday from noon-6PM.