Description
An elegant farm-to-fork dinner that feels like coming home!





We invite you to join our wonderful winemaking team for an evening filled with farm charm! We are working with the amazing 3GirlsCatering to design a delicious 6-course meal that will be thoughtfully paired with Williamson estate wines. 3GirlsCatering is committed to sourcing locally first and designing menus around fresh, organic, and sustainable ingredients. Enjoy a relaxed evening laughing with friends while you sip wine and watch a late summer sunset!
Friday, September 20, 2019 ~ 6:30 PM – 8:30 PM
Each plated course will feature locally grown and resourced ingredients. Our dinner guests will be the first to enjoy a brand new reserve wine that is the epitome of "poetry in a bottle" – Reserve Syrah. In addition, we will be releasing the 2016 Cabernet Sauvignon and featuring some of our classic crowd pleasers!

Tickets are $100.00 per person and $90.00 for wine club members.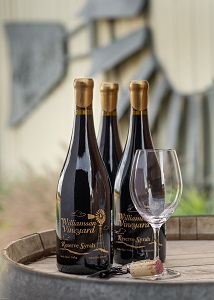 ~ MENU ~
2017 Dry Riesling served with Thai Ginger Chicken Lettuce Wraps made with fresh local basil, mint, cilantro and micro herbs & cucumbers
2018 Lilly White served with Williamson Grape & Ballard Danish Pearl Gouda 'n Chevre Galette stuffed with roasted green grapes, roasted garlic, thyme and paired with marinated kale salad massaged with lemon & olive oil and topped with preserved lemons & bacon lardons.
2016 Dry Rose served with Beet Cured Salmon Platter with Melon, Prosciutto & Arugula Salad
2016 Cabernet Sauvignon (featured new release) served with Italian Farro & Beef Stew with charred Global Gardens oyster mushrooms, oregano, basil & thyme; prepared with rich bone broth served with bone marrow & a crostini.
2016 Reserve Syrah (official first release) served with Espresso Rubbed Purple Sage Leg of Lamb (spiked w Malheur River chorizo & garlic cloves, slow roasted until fork tender) pan sauce made with blistered red Williamson grapes & Idaho Gold espresso. This is served over Aged Ballard White Cheddar Polenta with grilled corn (off the cob) & rosemary.
2016 Reserve Cabernet Sauvignon (featured new release) served with Dark Chocolate Cabernet Cake with chocolate ganache, Idaho gooseberry compote schmeer & a small wedge of Rogue Creamery Smoked Blue whipped cream.
Vegetarian option will be available upon request. Please notify Williamson's of any dietary restrictions by September 13th.
Your ticket will include a six-course meal paired with six 2 oz. wine samples. Limited to 50 tickets! Tickets can be purchased at Eventbrite or in the tasting room, (208) 459 - 7333. This event will be held at Williamson Orchards & Vineyards tasting room, 14807 Sunnyslope Rd., Caldwell, ID 83607.