Description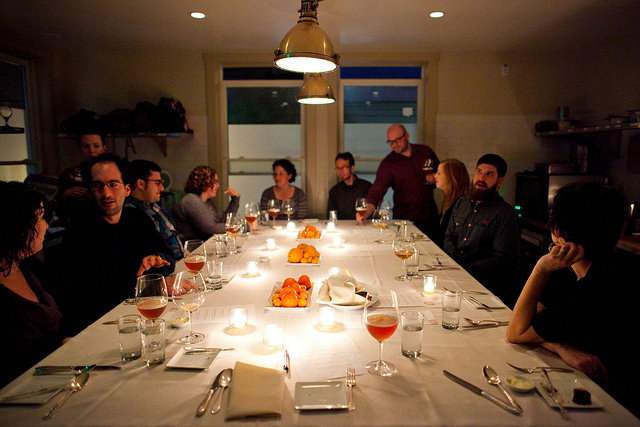 Guest winemakers will be on hand in the Dough Room presenting their wines, paired with a five-course tasting menu prepared by Chef Thomas McNaughton.
Sustainable viniculture is an integral part of the wine making process for all of these winemakers. Chef Tom is working closely with them to create a menu highlighting the unique features of each wine. This is a fun, one of a kind opportunity to taste and learn about wines from the producers themselves in an intimate setting.


Winemaker Dinner Schedule:

Anthill Farms, Friday, July 8th with Anthony Filiberti & Webster Marques
2 seatings: 6 & 9.15pm

Radio-Coteau, Friday, July 22nd with Eric Sussman & Davida Ebner
2 seatings: 6 & 9.15pm
Southern Italy's Volcanic Terroir, Friday, July 29th with Cecilia Piccin of Grifalco Winery in Basilicata, Ciro Biondi of Vini Biondi in Sicily's Mount Etna & Oliver McCrum of Oliver McCrum Wines
2 seatings: 6 & 9.15pm
Medlock Ames, Friday, August 26th with Ames Morison
2 seatings: 6 & 9.15pm
** flour + water does have a 48-hour cancellation policy. If less notice is given there is a charge of $75 per person.
Each 5 course dinner, prepared in the Dough Room by Chef Tom is $200 per person, inclusive of wine pairings, tax & gratuity. There are 12 seats available at the chef's table in the Dough Room for each seating. By day, The Dough Room serves as a prep kitchen where we roll our fresh handmade pastas, and at night it transforms into an intimate private dining space.
For any questions please contact 415.826.7000 or events@flourandwater.com
More information is available at www.flourandwater.com