Sales Have Ended
Ticket sales have ended
This ticket is admission of (1) One Individual Adult (21 yrs. of age+) to attend our event as listed on your ticket. This may include specified tasting formats; to maintain the course and pace of the moderator, we do not offer additional pours. This event may include refreshments, refer to the event description for full details. Sight, hearing, scent/smell is necessary to enjoy the full experience. We will not be held responsible/liable for any lost, stolen, damage of your personal property. No Animals Permitted; Exceptions: guide dog for the blind, signal dog for the deaf, service dog for the disabled/handicapped; Service dog fraud is a crime, sorry, "Therapy Dogs" are not ADA service dogs. Groups of 2 or more may be broken up to accommodate seating arrangement; please arrive together to be seated as a group. PARKING SITUATION: This ticket/event does not guarantee parking, unless otherwise specified. This location has very limited parking, and may not offer valet services. Street parking/ public parking structure may be available. Any/all parking is at your own risk. Please consider other sources of transportation (e.g.: Lyft, taxi, public transport, car services, etc.) OPEN/ UNOPENED CONTAINERS OF ALCOHOL/ BOTTLES/ STEMWARE are not permitted beyond the event premise. Ticket holders are not at liberty to remove any event property, including but not limited to floral arrangements, decoration, stemware, any containers of alcohol. In addition, no outside food or drinks are permitted. We reserve the the right to refuse service to anyone. Please Drink responsibly! ALL/ ANY TICKET SALE IS FINAL. WE DO NOT OFFER REFUNDS/ EXCHANGES/ TRANSFER BETWEEN PROGRAMS. Your ticket is transferable: pass your ticket on to family/ friends at your own discretion. Email us at: TLC@wineLA.com
Sales Have Ended
Ticket sales have ended
This ticket is admission of (1) One Individual Adult (21 yrs. of age+) to attend our event as listed on your ticket. This may include specified tasting formats; to maintain the course and pace of the moderator, we do not offer additional pours. This event may include refreshments, refer to the event description for full details. Sight, hearing, scent/smell is necessary to enjoy the full experience. We will not be held responsible/liable for any lost, stolen, damage of your personal property. No Animals Permitted; Exceptions: guide dog for the blind, signal dog for the deaf, service dog for the disabled/handicapped; Service dog fraud is a crime, sorry, "Therapy Dogs" are not ADA service dogs. Groups of 2 or more may be broken up to accommodate seating arrangement; please arrive together to be seated as a group. PARKING SITUATION: This ticket/event does not guarantee parking, unless otherwise specified. This location has very limited parking, and may not offer valet services. Street parking/ public parking structure may be available. Any/all parking is at your own risk. Please consider other sources of transportation (e.g.: Lyft, taxi, public transport, car services, etc.) OPEN/ UNOPENED CONTAINERS OF ALCOHOL/ BOTTLES/ STEMWARE are not permitted beyond the event premise. Ticket holders are not at liberty to remove any event property, including but not limited to floral arrangements, decoration, stemware, any containers of alcohol. In addition, no outside food or drinks are permitted. We reserve the the right to refuse service to anyone. Please Drink responsibly! ALL/ ANY TICKET SALE IS FINAL. WE DO NOT OFFER REFUNDS/ EXCHANGES/ TRANSFER BETWEEN PROGRAMS. Your ticket is transferable: pass your ticket on to family/ friends at your own discretion. Email us at: TLC@wineLA.com
About this Event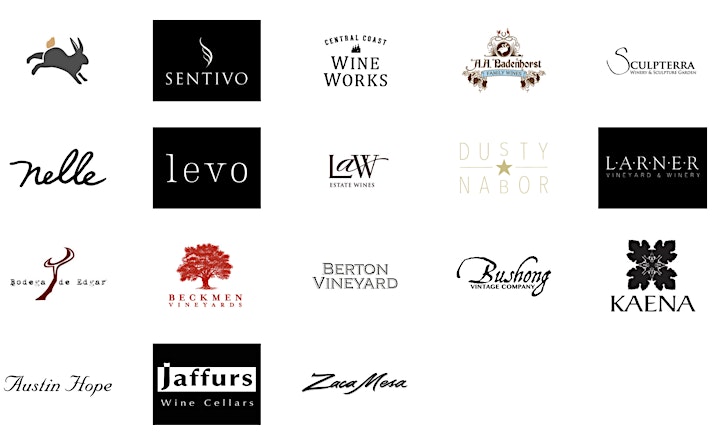 Rhône Wars | Grenache vs. Syrah
DRINK TOP RHÔNE INCARNATIONS WITH THE WINEMAKERS, PROPRIETORS AND EXECUTIVES!!!
SIGNATURE LA BREA BAKERY APPETIZERS
BREAD & CHEESE BOARD
LIVE DJ POTATO HEAD
VOTE FOR YOUR FAVORITE!

SYRAH
Syrah (AKA Shiraz), a dark-skinned grape last seen lurking around the steep hillsides of the Northern Rhône, nestled in Sonoma's Bennett Valley, basking in the Napa Valley, praising the Walla Walla and genuflecting in Santa Ynez. Syrah is the offspring of two grapes from southeastern France, Durezaand and Mondeuse Blanche - who knew? And who cares?? Syrah should not be confused with Petite Sirah, a cross of Syrah with Peloursin (and if you only heard and didn't notice, it is spelled differently).
Copious terroir influences have their impact on Syrah, just as regional differences influence music - from Texas "Southern-fried" Rock & Roll, to Seattle Grunge… place has its impact. SYRAH can be intense, deep, dark, rich, or a little peppery and chocolate-oriented. Any grape that can make you smell BACON is ok with me!
In 2004, Syrah was the world's 7th most grown grape varietal, and most of it is not bottled as a stand-alone grape. It's typically blended with other Rhône wines and can make just about anything a little more interesting. From the south of France to the many corners of the New and Old World: California, Washington, Chile, South Africa, Hawke's Bay, New Zealand...you can feel and taste a different beat and rhythm in the wines of SYRAH, which is also found in several Australian wine regions such as: Barossa, Heathcote, Coonawarra, Hunter Valley, Margaret River and McLaren Vale - often accompanied by a didgeridoo!
GRENACHE
Grenache (AKA Garnacha) is one of the most widely planted red wine grape varieties in the world…even more than SYRAH!!! Hard to believe! Spain is massive but did you know it's a major player in the Southern Rhône? How about Australia and California? Yes. Grenache is also the backbone of Rosé in France and Spain and the red dessert wines of Banyuls in France and a number of STICKIES from Australia!
It is generally spicy, berry-flavored and soft on the palate. The color can vary but Grenache is not always dark as night; sometimes it has more in common with Pinot Noir or Nebbiolo. The flavor profiles on Grenache include red fruits (raspberry and strawberry) white pepper, tar, leather, something like a nice, new Porsche 911 with the top down… so I have been told.
In California there is a very active and exciting GARAGE wine movement and Grenache is a major player along with other Rhône up and comers…. Paso Robles, Santa Ynez and pockets of the Central Coast are duking it out for the title of best place to grow Grenache.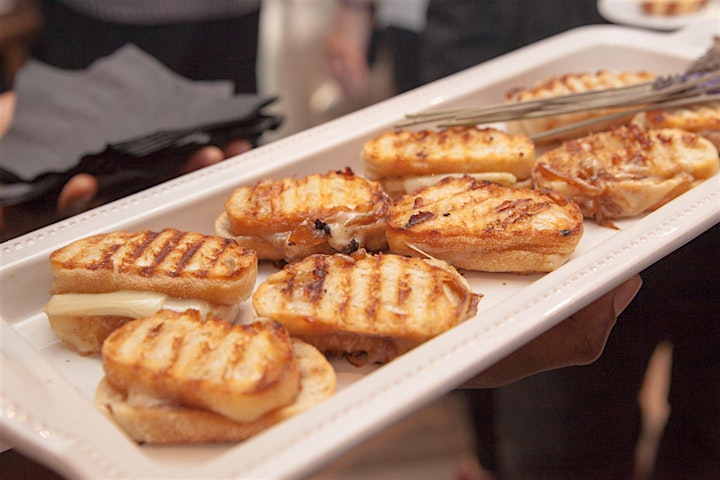 MENU
****Cheese Platter with seasonal cheeses, crackers & La Brea Bakery Breads ****
6PM VIP CULINARY DELIGHTS
Short Rib sliders with horseradish chive cream
Crab-stuffed crimini mushrooms with hollandaise drizzle
Ahi tuna with pita chips with cilantro chipotle aioli
Lamb meatballs with tzatziki
7 PM CULINARY DELIGHTS
Chorizo-Manchego Mini Tartlets
Roasted Tomato & Mozzarella Bruschetta (vegan)
Avocado Toast with roasted corn, grilled pineapple on sourdough (vegan)
Heirloom tomato, pork belly & Bibb on country wheat
Grilled polenta cakes with white bean puree & garlic shrimp
Roman Style Pizza (vegetarian/vegan)
Nancy's Fried Chicken Wings with La Brea Bakery starter
Sausage & Puff Pastry with Dijonnaise