Wine, Wings & Wisdom w/ Dr. Tatiana Warren: Equity in the Community
Wine, Wings & Wisdom with Dr. Tati Warren is a community program with a primary mission of using local knowledge to inform global wisdom.
About this event
Wine, Wings & Wisdom with Dr. Tatiana Warren presents "Equity in The Community... Can we really have it". Join us on Friday, October 1st Live in-person at Fayette Street Outreach Organization (29 N. Smallwood St. Baltimore, MD 21223) or virtual from anywhere in the world at 7pm EDT. Doors will open at 5:30 pm for wine, wings and things; and Zoom will open at 6:30pm for virtual mingling.
Mr. Dion Bowen, CEO & Founder of EPIC Art Universe and Loyalty is Love Clothing, LLC and Mrs. Edna Manns-Lake, President of Fayette Street Outreach Organization, will share on The Equity Project. The Equity Project is a collaboration bringing fresh, creative ideas with a youth-driven project model to the next generation of leaders to the learn the stages of developing a clothing brand and gain experience running a business.
The Equity Project goal is to build equity amongst youth by bridging the technology gap in areas of entrepreneurship, design, marketing, and radio broadcasting. Five interns participated in a summer internship where they learn components of design, printing, finance, digital media, and promotion as it relates to building a clothing line and radio broadcasting.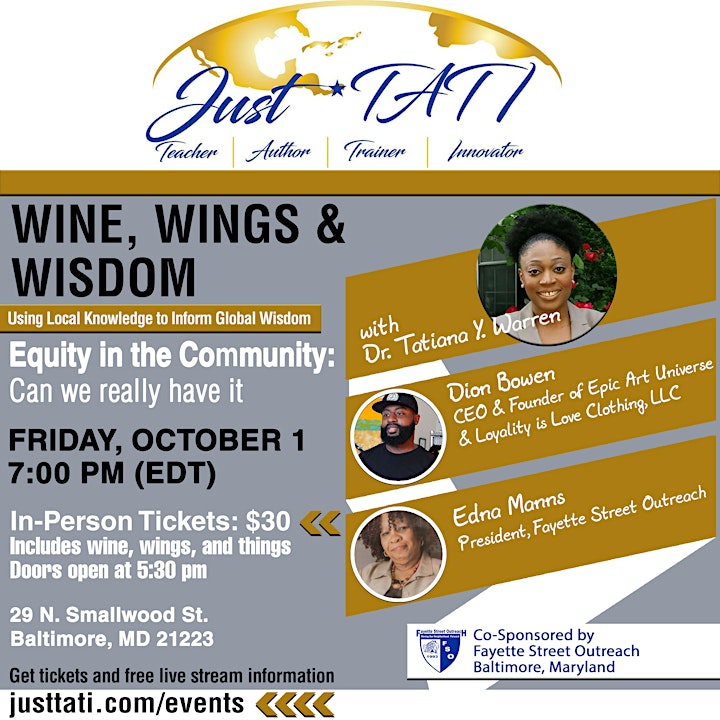 Organizer of Wine, Wings & Wisdom w/ Dr. Tatiana Warren: Equity in the Community