Description
​

Enjoy some delicous wine & light snacks while learning a powerful BodyTalk technique in a relaxed environment among friends. You will learn how to confidently perform a fabulous technique on yourself and on others before the end of the workshop and have some fun while learning!

The workshop technique will focus mainly on
Improving Circulation & Communication throughout the brain
Decreasing the stress response and over-reactions to stress
Helping the Body/Mind let go of it's attachments to beliefs and patterns that are impacting your health & wellbeing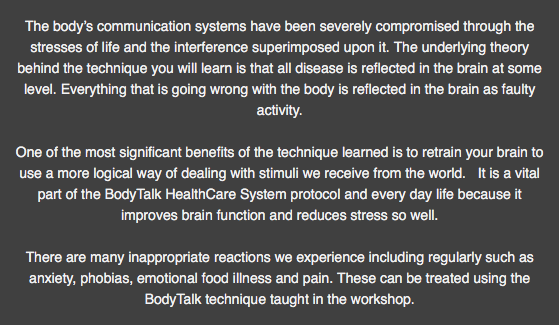 A few of the benefits of this BodyTalk technique:
Reduces the negative impacts of Stress
Promotes overall Healing
Improves Memory & Concentration
Improves Clarity & Focus
Improves Sleep
Promotes Relaxation
And much more!
There will be a brief presentation explaining the BodyTalk Healthcare system followed by the hands on workshop.

All who attend have an opportunity to be selected for a free BodyTalk session demonstration at the end of the evening!

New attendees are eligible to receive a discount on sessions if they have an interest in working with us one on one.