Description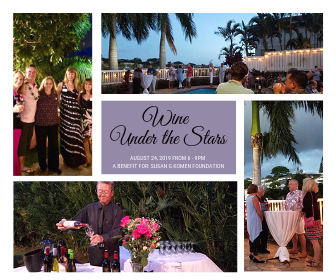 Taste and toast the night away at the second annual "Wine Under The Stars" at the Makakilo home of Alan & Annabel Gottlieb.
Support host team "My Boobs Were Made For Walking" raise funds for the Susan G. Komen Hawaii Breast Cancer Foundation. Our 2018 event raised $4,000. With your help and our sponsors we will reach our goal of $5,000 this year.
Food prepared and presented by Chef Nick Sargent from the popular Baci Bistro in Kailua paired with wine selected and served by renowned Sommelier Danny Matsushita.
$75 per person. Payment can be made at the event by cash or a check paid to the order of Karen L. Cheek. Guests can also pay via Paypal sending funds to klcheek@hawaii.rr.com. Please send to a friend on Paypal options. Please direct any questions on payment via email to Karen.
Space is limited. Reserve your spot now!
RSVP by August 1, 2019
This event is partially sponsored by the Schuler Family Foundation.
Menu:
Spalunka - grilled calamari steak, marinated mushrooms and artichokes, kalamata olives, roasted red bell peppers, cantaloupe melon, prosciutto Di Parma, grilled shrimp gambertti style.
Chicken Lettuce wraps - diced chicken thighs sauteed in kaffir lime sauce, butter-leaf lettuce cups, topped with crushed peanuts and mint.
Coconut Shrimp - skewered and fried served with a sweet Asian sauce.
Oysters Rockefeller - cream spinach sauce, baked to perfection topped with freshly grated parmesan cheese.
Truffle Ewa Sweet Corn - grilled corn with a truffle oil drizzle freshly grated parmesan.
Beef Skirt steak sliders - skirt steak marinated in a spiced teriyaki sauce and grilled, sliced thin and added to Kings Hawaiian sweet roll, hoisin sesame sauce and sauteed Ewa sweet onion.
Grilled Vegetables - red bell peppers, yellow bell peppers, squash, zucchini, eggplant, cauliflower, cherry tomato, topped with balsamic reduction and fresh chiffonade basil
Dessert -Cheesecake Bites
---
Mahalo to the donations from our Oahu farmers and ranchers:
Kunoa Cattle Company (beef)
Kualoa Ranch (seafood)
Larry Jefts Farms (produce)
Aloun Farms (produce)
FAQs
What's the refund policy?
Cancellations after 1 August are non-refundable as the food orders will have been placed with the vendors.
What are my transportation/parking options for getting to and from the event?
The Hale Gottlieb is on a cul-de-sac and parking is limited. Please park along the side streets above the house.
I can't attend but would still like to make a donation. How can I do that?
Donations can be made at the Komen Hawii Race for the Cure site. You can make a donation to the team at this link http://hawaii.info-komen.org/goto/WineUnderTheStars.
Please send an email to Karen at klcheek@hawaii.rr.com so we can track your support of this event. Mahalo!