Description
JOIN US
You are cordially invited to join us at The Winery at Olney for a wine tasting fundraiser!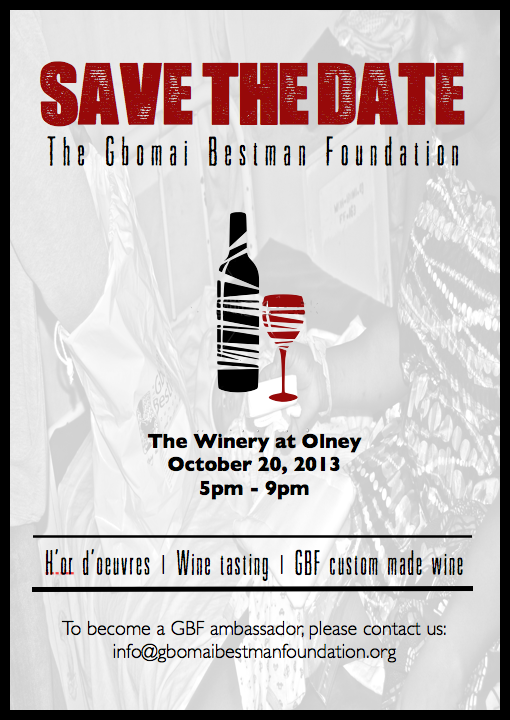 WHAT YOU'LL ENJOY
All guests (as GBF Patrons) will enjoy hor' d'oeuvres and the taste of a curated list of white, red, and fruit wines by The Winery at Olney. Other ticket levels will enjoy the following:
GBF Patron [$25]

GBF Champion [$50] - a GBF wrist band, special acknowledgement on the website
GBF Ambassador [$200] - Entry for two, a GBF wrist band, A tee shirt, special acknowledgement on the website,

special acknowledgement at the event

and a free bottle of custom made GBF wine of your choice
WHAT YOU'RE SUPPORTING
A little over a year ago, we connected with a philanthropist from Canada that helped GBF receive a grant to restructure the Maternal Care Package (MCP) program starting with a targeted group of woman in the Tubmanburg area (In Bomi County where we work). As a patron of this event, your funds will go directly towards the this project. To date, a significant financial constraint for this project has been the fees that have accumulated during the time that MCP bags have been stored at the National Port Authority of Liberia. Through this fundraiser, we hope to raise enough funds to clear these goods through the port!
You can read more about what we've been up to lately here: http://bit.ly/16WAmQP