Description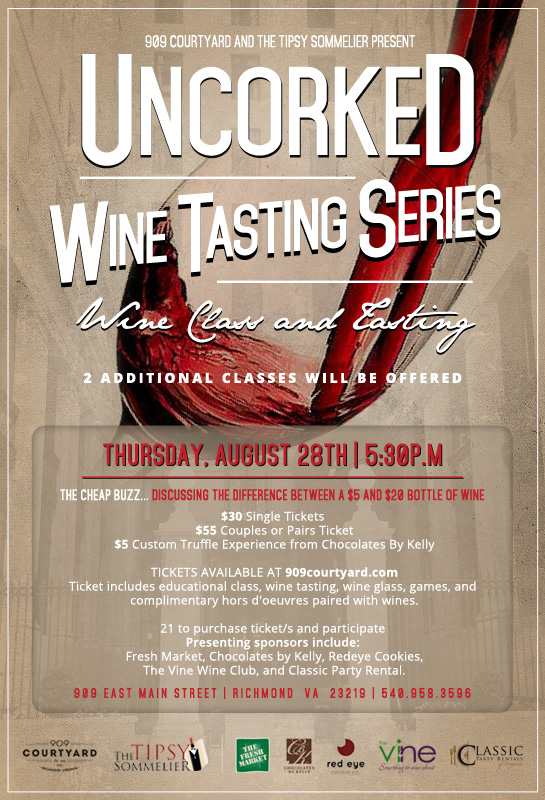 Are you bored with the typical wine tastings and are searching for a unique way to experience wine? Look no further, 909 Courtyard is the answer. We have partnered with Terricinia St. Clair from The Tipsy Sommelier, to offer you a series of wine classes and tastings. The events will occur on the fourth Thursday of every month, beginning in July and ending in October. Join us for the second installment on Thursday, August 28th at 5:30p.m. You must be 21 years of age to purchase or participate in our classes.
Since first exploring event options for the 909 Courtyard, wine tasting events have continuously been discussed. The space has an elegant, timeless presence, demonstrating the perfect backdrop for an outdoor, wine tasting. Each class will have a different theme, allowing for an educational experience, while you sample. A great event for a group of girlfriends, wine club, work social, date night, and more.
Single tickets are $30 and couples (or pairs) are $55. A limited number of tickets are available, so purchase today. Your ticket price will include an educational class, wine tasting, and wine glass to enjoy at the event and at home. Additionally, your ticket will include meat, cheese, fruit, and dessert with our wine recommendations. Food, dessert, wine, and rentals will be supplied by Fresh Market in Carytown, The Vine Wine Club, Redeye Cookies, Chocolates by Kelly, and Classic Party Rental.
The smooth sounds of light jazz will welcome you into the space the evening of the event. We want our attendees to unwind and relax from their busy lives and enjoy a fun evening with friends, family, and co-workers. Don't miss your opportunity to attend these amazing events, a limited number of tickets are available!
EXCITING NEW ADDITION TO THE SERIES, CHOCOLATES BY KELLY!
$5 add on ticket for the event
Join us for Wine and Chocolate as part of a balanced social life! Sip some glorious wines in the beautiful 909 Courtyard while I whip up my decadent, old-fashioned chocolate truffles, right before your longing eyes. These lovely little confections, spiced to perfectly pair with the nights' carefully selected vino will surely blow you away!
Due to a limited amount of space and tickets we have a no refund policy, however, we can explore transferring to another event.
August 28th- The Cheap Wine Buzz
Barefoot, Yellowtail, Crane Lake, 2 Buck Chuck....we have all rummaged the shelves of Trader Joe's and Kroger to see just how low we can go for that cheap buzz! Most of us discovered these $5 thrills in college or while working for tips and have just continued to drink them although we can afford better and simply deserve better. But why pay more? If it ain't broke don't fix it, right? Well, not necessarily.

In this class, we'll determine why that $5 bottle is not the value you may think it is. We'll discuss and taste the differences in a $5 bottle of wine in comparison to a $20 bottle of wine and discover all that goes into the making of both and how their values are determined. We'll share good uses for that bottle of Barefoot and share some of the best wines for your dollar. At the end of this class, you're going to reconsider your relationship with your low tiered wine, it'll be a friend with benefits at best.
September 25th- Scandalicious Reds
These beautiful wines may surprise your palate and transform you into a red wine gladiator no longer hidden behind a treacherous allegiance to Moscato! More information to follow!

October 23rd- Meet Virginia
This is a great class to take before you begin your journey exploring Virginia wineries! In this course we cover the various wine regions throughout our state and introduce you to the major wineries of that region. More information to follow!
Thank you to our supporting sponsors!!