Wine Tasting + Personal Styling Workshop [Soft Skills for the Workplace]
Description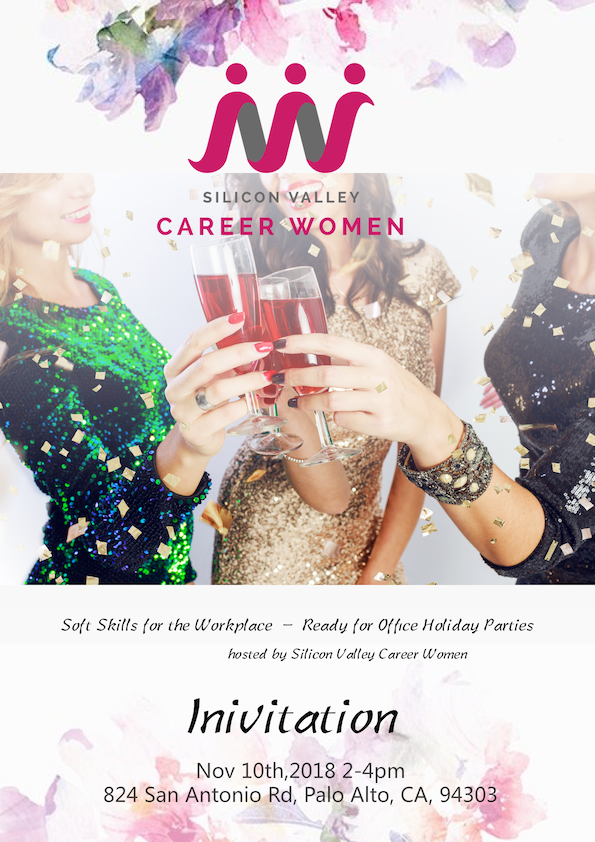 "Soft Skills for the Workplace – Ready for Office Holiday Parties"
Hosted by Silicon Valley Career Women: a non-profit career driven and happiness driven community (https://www.svcareerwomen.com)


With the holiday season coming up, join us to learn how to dress up and pose for pictures for office parties, and become an expert in wine pairings and etiquette. We will be raffling away a bottle of Champagne ( Sponsored by Derek Lim, attorney www.limlawpractice.com) and a pair of Fit-Any (www.fit-any.com) shoes. Attendees will also have the opportunity to participate in red wine tasting ( Sponsored by Bacchus Wine & Sprits) and get measured by Fit-Any's Fitting Bootie and try their selection of shoes. Career women of all ages are welcome.
Guests:

XIAFAN – Fashion and Styling Expert
With professional dance training, a honorary bachelor's degree in modeling, and a master of arts in fashion merchandising, the elegant, beautiful, and kind XiaFan has a unique combination of experiences. Her fashion creations are both classic and modern. She will teach you not only how to create and elevate your image, but also how to choose your outfits, do your hairstyle, and find your unique style. To her, outer and inner beauty is equally important, and she hopes that her advice will help women feel confident and beautiful.

MIGGI DEMEYER – Food and Wine Author
Miggi has studied the art of food and wine since 2004 when she moved to the San Francisco Bay Area. She graduated with the highest honors in Culinary Arts from the California Culinary Academy (Le Cordon Bleu Program) in 2008 and received her Court of Master Sommelier certificate in 2013. She is an active lecturer, teacher, and author of all things food and wine.
Saturday November 10, 2018 2-4pm
824 San Antonio Rd, Palo Alto, CA 94303
Dress Code: Cocktail
Sponsors: Fit-Any, Bacchus Wine & Spirits, The Law Offices of Derek Lim, Photographer Patrick Li