Wine Tasting & Book Discussion: The Magnolia Story by Chip & Joanna Gaines
Description
Imagine pulling up to a beautifully renovated rustic barn situated on a peninsula in the waters of the Chesapeake Bay. As you walk inside, your eyes do sommersaults because the warm lights, rustic barstools and chic decor remind you of something reminiscent of what only Chip & Joanna Gaines could pull off on HGTV's Fixer Upper. The room is filled with other women -- all warm and just happy that you're there. Your vineyard hosts greet you with a warm smile and pour you a tasting of 7 of its Premium Wines. As if it could get no better, you begin to unwind from a long day by joining in a book discussion of Chip & Joanna Gaines' book "The Magnolia Story". My friend...it's really that easy and we'd love for you to take part in this night curated just with you in mind on Friday, April 28, 2017 from 6:00pm - 8:45pm.
Prior to the night, you'll want to read our featured book for the discussion because it will be lively. Facilitated by Founder & Dream Architect Michelle McKinney, she'll take you through pivotal gleanings learned in this book that span lessons on dating, marriage, parenting, building a business from almost nothing to a multi-million dollar empire that puts faith right back in the center of it all. If you haven't read this book yet, trust us, you're in for a page turner that you will not want to put down. It's a short read that you'll more than likely find your own life within the pages.
Invite your girlfriends but get your tickets early because space is limited. The $25 ticket cost (+Eventbrite fees) covers the wine tasting, a glass of wine of your choosing from the 7, a souvernir glass, a priceless discussion and an opportunity to network with some of the Metropolitan Area's most incredible women.
Hope to see you there, lady!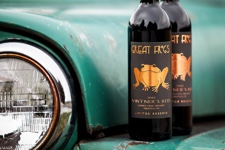 Image Source: Great Frogs Winery