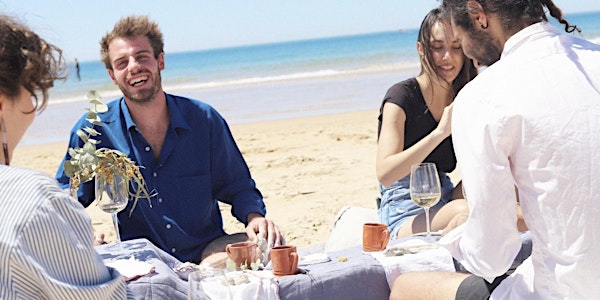 Wine tasting and ceramic workshop on the Caparica Beach.
Wine tasting and ceramic workshop on the Caparica beach.
When and where
Location
Costa da Caparica praia cabana do pescador 2825-491 Costa da Caparica Portugal
About this event
How to book: DM us on our Instagram page @kintustudio_store OR on our Facebook page @KINTUstudio OR drop us a message HERE. We will be happy to answer any questions or queries you have about the event.
Meet you at the beach!
On the 20th August we will meet you at Costa Caparica beach for fun-filled evening of a sunset, fine wine, arts and crafts! As displayed, we will have a serene set-up prepared for you, providing maximum comfort and minimum stress.
To begin, we will serve an appetizer while introducing ourselves. Then Julia will start her ceramics workshop teaching you a step-by-step method of how to mold the clay into your unique shape. She will then allow you to paint your pieces, all while tasting 4 different wines chosen by Izabela, an experienced wine specialist. Each tasting will be accompanied by an expert explanation of the wine's origin and characteristics among other interesting facts. We will make sure your glass is never empty... This workshop is designed for mainly beginners to intermediates of ceramic art and wine tasting but all abilities are welcome!
Enjoy the pleasure of being creative and building something personal complemented by wine, snacks and a sunset. You will also have the opportunity to collect your memorabilia after it has been in the kiln and professionally glazed.
We look forward to meeting you!