Immerse Yourself in Frequency with Sound Bath Meditation and a glass of wine for a perfect night to melt away stress .
About this event
Curious about the Power of Sound and Wellness? Plus a glass of complimentary wine at our favorite local winery.
Harmony Family Yoga and Sunland Vintage Winery invite you for a perfect night to melt away stress with wine and sound healing.
Enjoy a glass of wine at Sunland Vintage while Cici from Harmony Family Yoga leads a sound bath meditation with Therapy Harp and Chakra Bowls.
RELAX and RESTORE your balance. Resonant vibrations, rhythms and tones alter brain states and relieve stress levels, alleviating tension in body tissues and cells that have fallen into "disharmony".
✨ Healing with therapy harp and crystal bowls to bring you back into energetic HARMONY.
Sound healing can also help with:
*Pain Relief *Stress Management *Anxiety *Depression *Sleep Disorders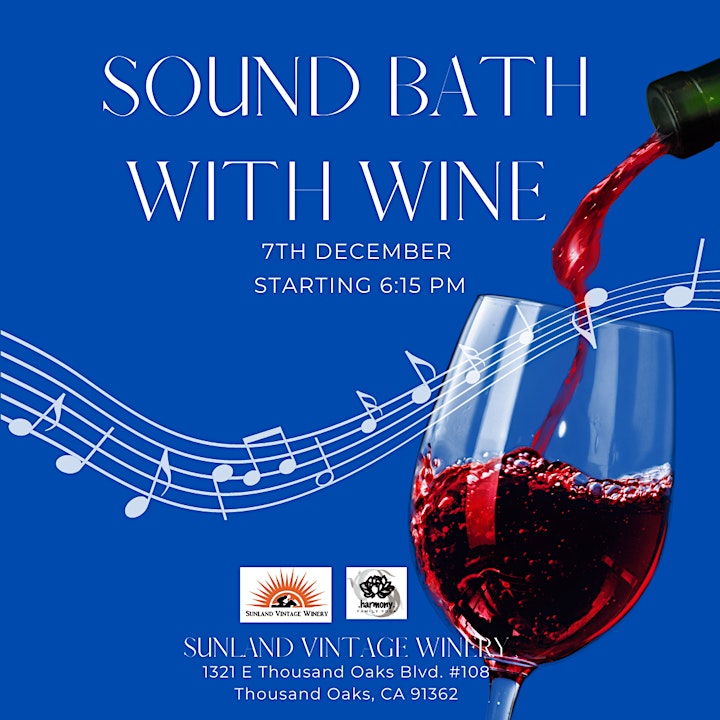 Organizer of Wine & Sound Bath Meditation
JOIN US FOR OUTDOOR CLASSES IN CONEJO VALLEY!
Connecting With Mother Nature & Balancing your Mood and Emotions.
Breathe in the fresh air and listen to the sounds of nature as you stretch and flow in a variety of adults, children and family classes.
Join a Wellness Community: Bring a like-minded wellness friend to share the outdoor space and support each other.
Boost your immunity: Breathe in fresh air, breathe out toxins. Flow in the warm sunshine and power up your immune system.
Build the Mind and Body Connection: Mindfulness is being aware, in the present moment with curiosity and without judgement. The nature setting of the grass, wind, and sunshine enhance our connection with the senses and benefit our mental well-being.