Description
When: Thursday, October 15, 5:00-8:00pm
Where: Koop Diamond Cutters 214 E 8th Street Cincinnati, OH 45202
RSVP: www.koopwineshine.eventbrite.com
Enjoy: Wine tastings, local boutique shopping, and a freeze model fashion show dripping in the season's latest custom design jewelry trends and Up2Tempo clothing. Each attendee will receive a complimentary Cincy Chic tote bag filled with glam goodies!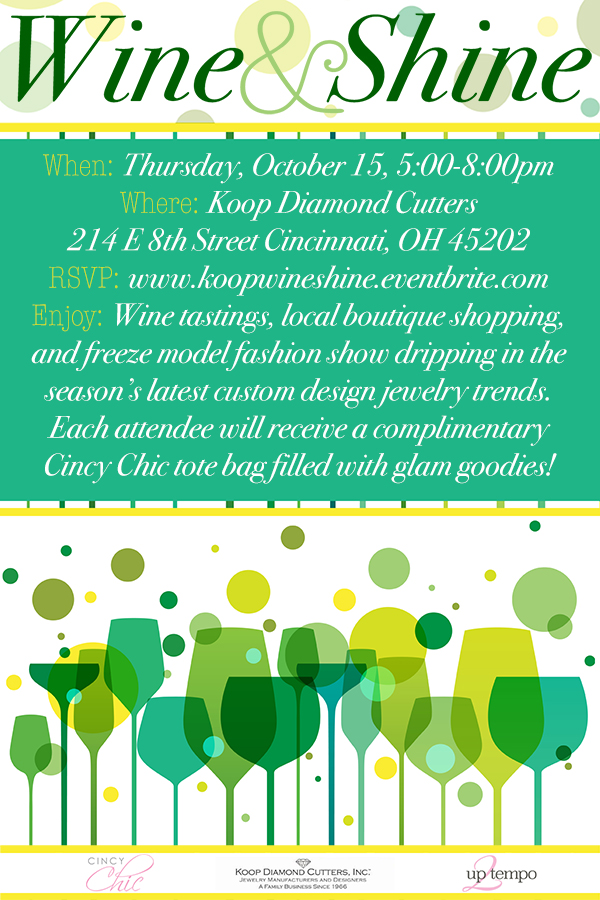 Organizer of Wine & Shine
Cincy Chic is the only online lifestyle publication for women in the Greater Cincinnati area. Each week, this dynamic e-zine publishes a feature story, columns, and five editorial departments in the following topics: health, beauty, fashion, social and career. Events include fashion shows, lunch 'n' learns and philanthropic fundraisers.
This online-only publication was recently honored with "Best New Product or Service" and "Marketing to Women" WE Celebrate awards from the Cincinnati USA Regional Chamber of Commerce.