About this Event
"It's a little Martha's Vineyard and a little Jimmy Buffet..."
Enjoy a night filled with music and beautiful views with twinkle-lit boats
You'll meet wine experts and some local makers all arranged by Kevin Castellano of Wayzata Wine & Spirits.
Taste appetizers from the best Lake Minnetonka area restaurants.
Choose our VIP ticket option and enjoy extra bubbly, spirits, music, a special raffle, time on our Island + enjoy the main event!
Make sure you get your chances for our Treasure Chest Raffle---with prizes as good as gold!
Be delighted by a visit to our Boat Load of Wine---everybody wins and just maybe you'll go home with a coveted extra special wine surprise.
All money raised supports Wayzata Community Sailing and the building of the Mike Plant Center.
Rain or Shine We Drink Wine
Check out sponsorship opportunities here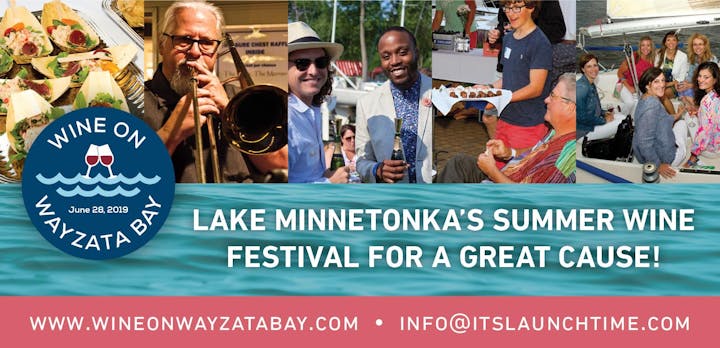 I agree:
I am 21 years old or older and, may legally consume alcoholic beverages. I acknowledge and assume all risks associated with this event including, without limitation, damages related to the consumption of alcoholic beverages, falls, animal bites, food poisoning, injuries related to being on or in proximity to boats, traffic, road and ground conditions, and effects of weather, including heat, humidity, and lightning.
I have read and fully understand this waiver and in consideration of the acceptance of my entry, for myself and anyone legally acting on my behalf, I waive and release the Wayzata Yacht Club and the Wayzata Community Sailing Center, its employees, directors, officers, volunteers, agents, successors and assigns, and all sponsors from any and all claims, liabilities or causes of action, including, without limitation, death, bodily injury, property damage, or any other loss, damage or any inconvenience whatsoever, arising from my participation in this event.
Further, I grant full permission for all the foregoing to use photographs, videos and other types of recordings of me in legitimate accounts and promotions of this event, the Wayzata Community Sailing Center, or the Wayzata Yacht Club.