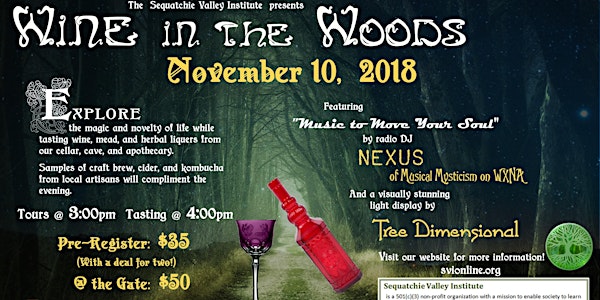 Wine in the Woods
When and where
Location
Sequatchie Valley Institute 1233 Cartwright Loop Whitwell, TN 37397
Description
Wine in the Woods is a fundraiser which has been a delight to host 1-2 times per year for over 20 years!

On November 10th, take a guided tour through Permaculture landscape, hand-crafted solar structures, and our very own, Pipsissewa Arboretum Trail. Then, settle into a relaxed evening of delicious and exotic specialties.
This autumn, in addition to our regular tasting of unique wines and elixirs, we will be hosting a showcase of local artisans sampling out their delightful drink creations. This will include craft beer, mead, kombucha, and plenty of non-alcoholic options, like fresh-pressed apple ciders from locals, Wheeler Orchard, with all the necessary mulled spices, and uplifting herbal teas!

The evening's entertainment will include "Music to Move Your Soul" by Nexus of Musical Mysticism on WXNA, and a visually stunning light display by Tree Dimensional.
A donation-based brunch with plates of $10-$25 will be provided on Sunday morning with ingredients from the vendors of Fredonia Mountain and Main Street Farmers Market.

It is our pleasure to invite you, and we look forward to seeing you there!

Pre-register here on Eventbrite for $35.
Single tickets will be $50 at the door.