Description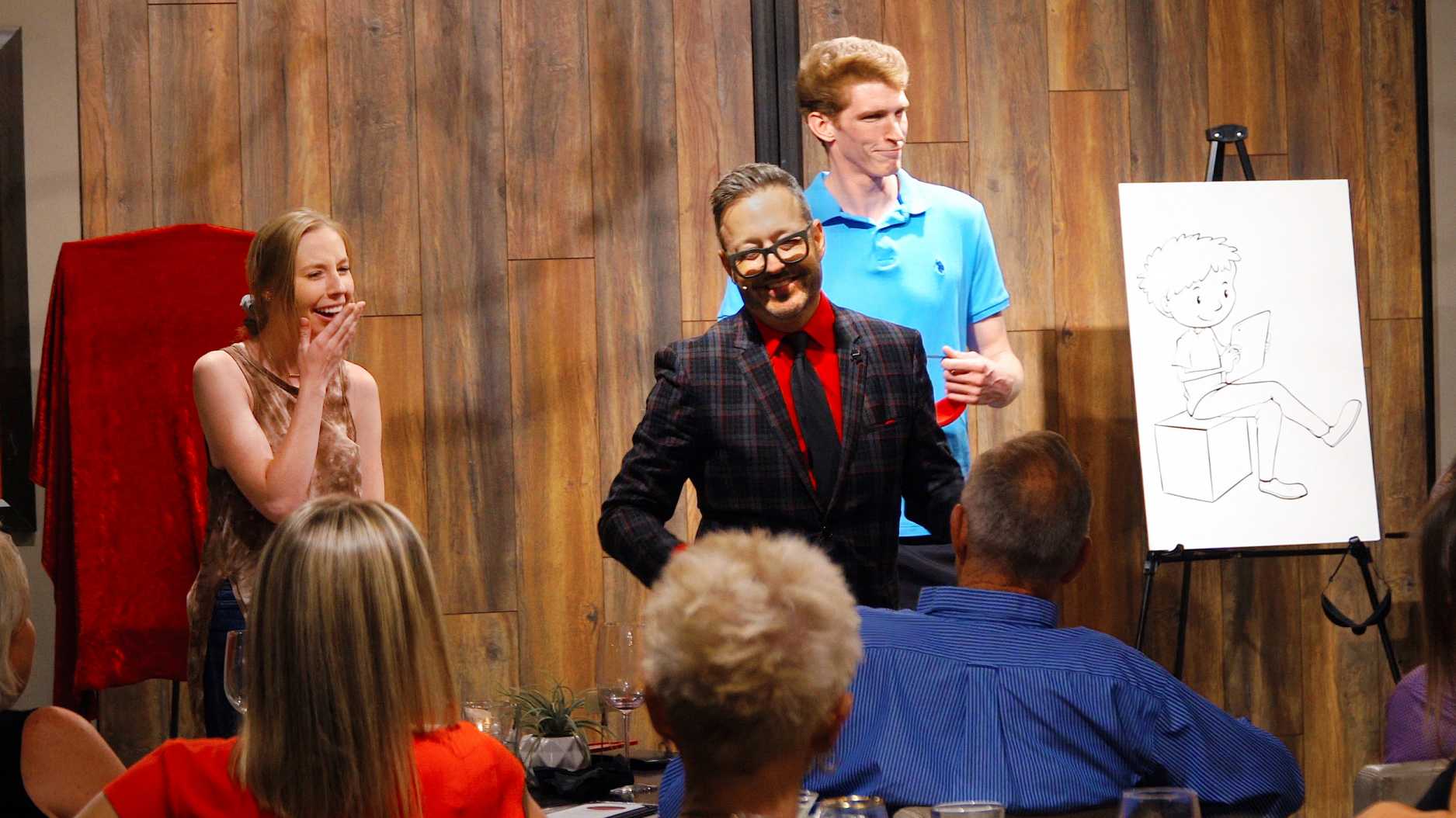 Sit back. Relax. Get ready to be taken to entertaining & delicious destinations!
Guests will be transported for two hours of "food for your thoughts" within the exquisite new Herb Box Thyme Room, for an intimately magical feast for the senses!
Upon arrival, guests will be greeted with a complimentary glass of a crisp rosé wine, a selection of sumptuous Herb Box hors d'oeuvres prepared by our chef and retro tunes playing overhead. Then after an hour (at 7:30), guests will be seated for an amazing one-hour mind reading show served up by world renowned Mentalist Brett Barry!
Guest's own thoughts are served up in amazing ways. Brett makes no claims to psychic phenomena! Yet in most cases he picks up on random audience thoughts as if plucked from the air. NO hypnosis – nothing embarrassing, always fun and entertaining.
The Wine In Mind show is a classy night of fun as an ideal date night or cool mid-week escape from the Arizona heat. No two shows are ever alike, because no two audiences are alike, Brett might know your pet's name when you were 10 years old, or the word that you selected from a recent paperback with his back turned. He might even open YOUR fully locked phone, with your pin code whispered into your ear.
Mentalist Brett Barry has acted as a creator & consultant to some of the world's top mystery performers, delivering his unique and mind-altering entertainment. Is he the real deal or a mirror of thoughts? Brett typically performs for high-end corporate clients across the USA including Clorox, Essilor, Microsoft and many more.There will be no magic tricks here, only treats showing the power of the mind.

For just $35 PP, you will enjoy an incredible night of Foodie fun. There's nothing else like this experience in the valley. Tickets are strictly limited to 45 guests per show, and we suggest booking early as most shows sell out.
Call it a unforgettable night of great foodie entertainment (with a dash of comedy) that you will be talking about on the car ride home.
Sneak preview here! https://www.youtube.com/watch?v=sEREEy7QMt8
More here: https://www.youtube.com/watch?v=aaafAS44ibo
And here: https://www.youtube.com/watch?v=7nQ7jw5cGh8
Doors open at 6:30pm for light bites. Show starts at 7:30pm
Tickets include:
• One glass of vino per person upon entry
• Herb Box charcuterie bites - by our master chef!
• 1 hour mind reading show with music.
An extra selection of yummy bites & drinks will be available for purchase prior to showtime, at additional cost.
* AGE 21 AND OVER ONLY. NO EXCEPTIONS.
ID REQUIRED FOR ENTRY! BRING YOUR ID! This is a fun & classy evening for adults, with alcohol served.
Any questions? Please contact us:
Call Amber at (480) 246-2957 or email Amber at: amber@theherbbox.com
---
FAQ
Where is The Herb Box located?
We are located in Old Town Scottsdale at:
7051 E. 5th AVENUE (The Thyme Room , off the courtyard)
480-289-6160
Directions link: https://goo.gl/maps/eEtMM4H1gVMg6zGL8
When are the shows?
Every other WEDNESDAY NIGHT, starting on July 31st.
What TIME is the show?
6:30 PM Open doors – Bites & wine for 60 minutes, mingling entertainment
7:30PM Mind Reading Show start
8:45PM Meet & greet after show
Where should I purchase tickets?
Right here at eventbrite.
Is there a DRESS CODE?
We ask that guests dress stylishly (dressy casual), but there is no formal dress code. We do request that guests dress up a little, as though they are attending a nice evening of entertainment. Flip flops are discouraged please.
Where can I see more about the Mind Reading stuff?
May we buy tickets in person on event night?
Yes but we cannot guarantee availability. We strongly recommend purchasing tickets in advance so as not to be disappointed.
Do you accept credit cards?
We accept MasterCard, Visa, Discover and American Express.
What time does the evening start?
Doors open at 6:30PM for yummy wine and charcuterie hors d'oeuvres. The one hour mind reading show will start promptly just after 7:30PM.
What kind of food or drink is included in the ticket price?
Each attendee will receive one glass of wine, and a a nice assortment of charcuterie bites will be available. Guests may also order additional chef selected foodie bites from our menu (or drinks) at an extra cost.
Is seating reserved?
No. Seating is first come - first served.
Is the show for all-ages?
The wine in Mind show is 21 and over ONLY, and you are requested to show a valid picture ID for entry
We have a big group or corporate event. Can we reserve the whole room?
Yes, please contact us for rates & availability . For group sales, please contact amber@theherbbox.com
Does The Herb Box have a bar?
Yes we do. Please be prepared to present a valid picture ID upon request.
Does The Herb Box have a smoking section?
No. The restaurant is a non-smoking facility.
Is parking available?
There is usually plenty of parking on the streets nearby or lots. We do not validate.
Is this a MAGIC SHOW?
No, but it will feel like magical entertainment, This is a MIND READING SHOW. Brett Barry will somehow know what some in the audience are thinking. No Long Island Mediums, no voodoo, nothing weird or psychic. The evening will feel like a magical experience! Your tummy and your mind will thank you.