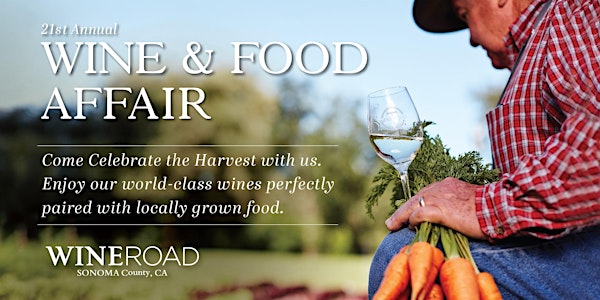 Wine & Food Affair 2019 ~ Sonoma County 21st Annua
The premier wine tasting event in November for Wine Road Sonoma County!
When and where
Location
Check in at Your Chosen Starting Winery: SEE BELOW Wine Road Participating Wineries Sonoma County, CA 95448
About this event
Saturday & Sunday, November 2 & 3, 2019 ~ 11 am to 4 pm each day
____________________________
As of Monday Oct 28th, this event has been canceled.
We will reach out to ticket holders for refunds next week. Thank you for your patience.
Our office will be closed ALL WEEK. We will not be responding to calls or emails this week. 
We will be contacting wineries and caterers to see if we may be able to host this event at another date. That is yet to be determined. 
____________________________
Join us for a weekend of wine and food pairing in the Alexander, Dry Creek and Russian River Valleys.
All of the wineries participating will have a favorite winery recipe available online, which they will prepare both days for you to sample, along with the perfect wine.
Wine & Food Affair tickets are only available online in advance. You can buy your Wine & Food Affair tickets until October 28, 2019. No Tickets will be available at the door.
Your Ticket Includes:
Wine tasting at all participating wineries (minimum of 3 tastes at each winery)
Food pairing - listed in the event program
Attendees will receive a tasting glass & wristband upon check-in. Designated Drivers are given a different color wristband and they are not served wine. All attendees must be 21 years of age or older.
NEW! Add-on Events*
Extend your Wine & Food Weekend Experience with new events we added to the wine week.
Winemaker Dinner at Balletto Vineyards, Friday November 1st 5:30pm – 9pm: Thomas Schmidt of John Ash & Co. will prepare an unforgettable meal that has been thoughtfully paired with Balletto Vineyards varietals. Winemaker Anthony Beckman and Thomas sat down and tasted each course to ensure food items perfectly matched the chosen wine. Using locally sourced ingredients – vegetables, cheeses, meats, even coffee – the meal itself would be memorable. Add to that a dazzling selection of Balletto Vineyards wines and a beautiful setting in the cellar and the evening will be complete. John and Terri Balletto will be on hand to share the excitement and challenges of growing grapes in the Russian River Valley. Anthony Beckman will share his insights into creating balanced varietals – some delicate and nuanced, some bold. Winemaker Dinner Menu
Somm Series at Roth Estate, Saturday November 2nd 9:30 am - 10:45am: Join us for our Roth Estate Tasting Master Class, an educational pregame before the start of Wine and Food Affair! Whether you are a connoisseur or new to wine, this event will have something for everyone! Wine tasting techniques, most effective language, and easy to digest food and wine pairing information that will continue to build your appreciation for fine wines.
SOLD OUT - Winemaker Breakfast at Kendall-Jackson Wine Estate, Sunday November 3rd 9:30 am - 10:45 am. Join winemakers from Kendall-Jackson, Hook & Ladder Winery and Sanglier Cellars for a casual morning of Q & A along with a breakfast before heading out to Wine & Food Affair. This is an open forum for guests to meet and chat with winemakers in a casual breakfast setting with Q & A.This is not a wine tasting experience, simply breakfast and conversation.
*You must have a ticket to the event weekend to purchase any Add-on Event.
For compliance with Sonoma County "best practices" for events we MUST enforce a limited number of people checking in at each winery location. We cannot make exceptions, once a winery has reached their limit for check-ins you will need to select another winery and check-in at that location.
All buses are banned from Wine Road events. A van is not a bus, but a bus of any size is just that - a bus. Buses are not allowed. Wineries will turn you away at the parking lot.
REFUND POLICY: Sales are FINAL and non - refundable. No full or partial refunds are given to customers who will miss the event. The ticket is valid only on the date[s] of the event as listed and may not be exchanged or redeemed for any other dates.
Need somewhere to stay? Here is a list of lodgings
Event Map: CLICK HERE
EVENT DETAILS & THINGS YOU SHOULD KNOW....
You are required to select just your starting winery, then are welcome to visit any & all of the wineries that are participating in this year's wine tasting event throughout the weekend.
Each participating winery is limited to 50 check-in registrations. When a winery has sold out as a check in their winery name is "greyed out" on the list and will not be able to accept any more check-ins.
Wineries with an * next to their name have requested no groups of 8 or more.
Attendees will receive a tasting glass & wristband upon check-in.
Designated Drivers are given a different color wristband and they are not served wine.
Designated Drivers must be 21 years or older.
Be prepared to show your wristband at each winery you visit to let wineries know you've checked-in & are an event participant.
You will need to keep your wristband on for both days – We do not replace wristbands.
Each person in your party will need to be present when checking in, wineries need to check ID's & attach wristbands to each attendee.
Ticket admits 1 person into the event.
Be prepared to show your photo I.D. - No I.D. = no admittance.
All Wine Road events are for adults only... NO ONE under the age of 21 is allowed to attend Wine & Food Affair -including no babies or children of any age.
If you lose or forget your glass it will be $5.00 for a new one.
No replacement for lost wristbands, a new one must be purchased.
Please do not bring dogs to Wine & Food Affair.
Sunday Only tickets will be able to check in on Sunday only.
Participating wineries will stop pouring at 4:00 on event weekends, even if their normal tasting hours are later.
Please Help Us With Our Goal Of Responsible Wine Service... No winery will continue to serve or sell wine to any guest who appears intoxicated, even if they have a limo or designated driver.
This Event Sells out - No Sales at the door.
Event takes place Rain or Shine.
FAQ's
1. Is my registration/ticket transferable to another person? Yes, all they need is a copy of your PDF Ticket and they must check in at the winery you chose to start at.
2. Do I have to bring my printed ticket to the event? Either print it or show it on your phone and your photo ID for age verification.
3. The name on the registration/ticket doesn't match the attendee. Is that okay? Yes that is fine, as long as they have a copy of your pdf Ticket and a valid ID when checking in.
4. Can I switch my starting Winery? We cannot change your starting location. You must check in at the winery you chose at registration.
5. Can a Designated Driver be under 21 years old? Designated Drivers must be 21 or older.
6. Can I purchase and attend an Add-on Event without a Wine & Food Affair ticket? No, you must purchase a Wine & Food Affair admission ticket in order to purchase and attend any Add-on Event.
Thank You to our Event Partners