Description
Join Second Bar + Kitchen Domain NORTHSIDE for an evening with Dina Mondavi featuring Michael Mondavi Family Estate Wines. Beginning with a cocktail reception and passed appetizers followed by a five course tasting menu created by Chef David Bull. Limited seats available on March 7th, 2018. $125 per person all inclusive.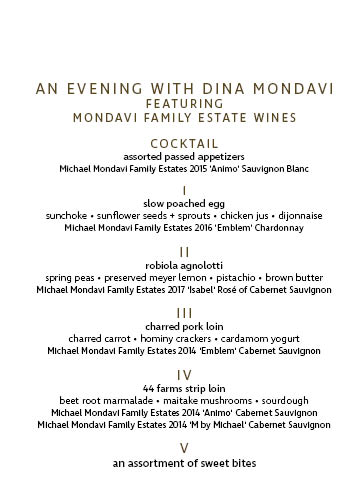 Dina Mondavi co-founded the Michael Mondavi Family Estate in 1999 with her parents, Michael and Isabel Mondavi, and her brother, Rob Mondavi, Jr., upon the purchase of the Animo vineyard in Atlas Peak. With her family and as a co-owner, she is responsible for directing the organization, traveling frequently to support the sales team in achieving their business goals.
She began her wine career in 2000 as a wine educator at Robert Mondavi Winery, before joining Southern Wine & Spirits in San Francisco as an account manager, both on and off premise. In 1999 Dina, her father Michael, mother Isabel and brother Rob, collectively purchased a plot of rugged Manzanita lined land high on Atlas Peak and began establishing a vineyard, thereby founding Michael Mondavi Family Estate. Dina served as the brand manager for the family's Isabel Mondavi Wines label, which was launched in 2005 and was responsible for the strategic direction and day-to-day management of the brand, including all sales and marketing decisions. Dina is also part of the master blending panel that assembles the final blends for M by Michael Mondavi, Isabel Mondavi Wines, Emblem and Animo.