Wine Class - Tour de France

Thursday, April 19, 2012 from 7:00 PM to 9:00 PM (PDT)
Event Details

Get the shortcuts to navigate the world of wine with confidence, from the 
vineyards to your glass..  Discover and develop your personal wine style.. 
 and unveil your inner epicurian!  Come join us for a great time, train and 
indulge your senses..  whether you're a neophyte or a wine connoisseur..!
Thursday, April 19
Tour de France
You will be provided an insight into the historical and cultural significance of wine in France.  Learn 
about the key wine producing areas (Champagne Bordeaux, Burgundy, Loire & Rhone Valleys, 
Alsace, Provence..).  See how the natural conditions (the Terroir) produces such an array of great 
and varied wines.  Geographical diversity, a range of noble grape varieties and tradition are what 
keeps France on the wine scene.   You will also learn how to identify French wine regions based on 
the aromas you are scenting.
OTHER CLASSES COMING UP...
Wed, February 8
Aroma Training & Blind Tasting
Develop your olfactory "palette" and learn how to recognize aroma families (fruity, flowery, spicy..) but 
also more specific aromas.. using one the best professional tasting kits: Le Nez du Vin (The Nose 
of Wine).  Get tips & guidelines to develop your sense of smell every single day. Learn how to taste 
wine and appreciate its aromas, flavors and textures.  How to detect grapes based on the aromas 
you are scenting... and make the difference with other grapes!  Learn how to trust your taste buds 
and express freely your impression about a wine, without being condemned to agree with others! 
Join us for this 'balade olfactive' and scent-hunt!
Thursday, March 15
La Dolce Vita
With a 3,000-year viticultural history, Italy is one of the oldest wine-producing regions in the world.  
With the exception of France, it produces and consumes more wine than any other nation.  Join us 
and understand Italy's classification system & geographical characteristics.  Learn about the main 
indigenous grapes (among 2,000 varieties!) and taste their specificities.  Discover also 'new-world' 
style wines that do not adhere to traditional winemaking and appellation laws.  Staci Miller, wine 
director at the Little Door, Italian wine aficionado & expert, will present us her favorite picks and will 
be on-hand to answer all your questions.



Ticket Price
$68 per person per 2-hour class
special $108 for two tickets!
(select 2 in quantity, use discount code:  specialfor2 and check out)


Ticket Includes
- 6 wines
- artisan breads, cheeses and charcuterie
- grand cru chocolate truffles
- one signature tasting glass (yours to keep)
- take-home educational handouts

Classes are limited in size for a great interactive, learning and fun atmosphere!  They always sell 
out, register today to avoid disappointment!
When & Where

Royal/T
8910 Washington Boulevard
Culver City, CA 90232-2326


Thursday, April 19, 2012 from 7:00 PM to 9:00 PM (PDT)
Add to my calendar
Organizer
Los Angeles Wine Tasting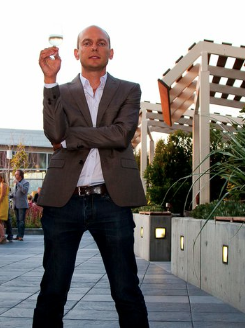 Los Angeles Wine Tasting
Lifestyle Wine Events in Los Angeles
for all upcoming events & details: http://www.lawinetasting.com (new website in construction)
Having a huge passion for Wines and Spirits, I have been working in this industry for more than 12 years now, both in Europe and in the U.S.

In 2000, I  worked for ChateauOnline.com in Paris.  I was there a wine consultant for premium clients, in Europe and overseas, helping them to build up a wine collection.  In 2001, I worked in marketing for Moet Hennessy Louis Vuitton (LVMH).  As a product manager for Hennessy Cognac, I contributed to the launch of Fine de Cognac on the European market.  End of 2001, and for two years, I was hired out by the Champagnes Piper and Charles Heidsieck (Remy-Cointreau Group) in Reims, France.  I was working as a Brand Manager for Charles Heidsieck and launched new products both for the European & U.S. markets.

Since October 2004, I have been hosting educational wine events in Los Angeles area.  I have been also representing a boutique wine distributor targeting high-end hotels & restaurants, wine bars, wine & gourmet stores in all South California.

The World of Wine is a great way to meet GREAT people and YOU are now part of it... CHEERS!!

Jean-Baptiste
jean-baptiste@lawinetasting.com
Wine Class - Tour de France