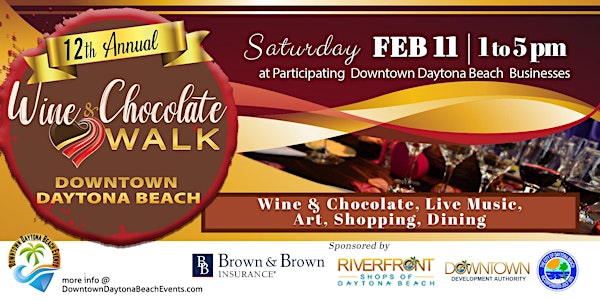 Wine & Chocolate Walk (12th Annual) - A Wine & Chocolate Tasting
Wine & Chocolate Tasting in Historic Downtown Daytona Beach - 12TH ANNUAL WINE & CHOCOLATE WALK
When and where
Location
REGISTRATION LOCATION(s) TWO REGISTRATION TENTS ON BEACH STREET (North & South) Daytona Beach, FL 32114
About this event
Wine & Chocolate Tasting in Historic Downtown Daytona Beach
Decadence. Pure Decadence. Here Comes the 12th Annual Wine & Chocolate Walk - Downtown Daytona Beach
Indulge yourself on Saturday afternoon!
12TH ANNUAL WINE & CHOCOLATE WALK
Saturday, February 11, 2022 - 1pm to 5pm
It is that time of year again...The 12th Annual Wine & Chocolate Walk...This is one of the most favorite and anticipated events for Downtown Daytona Beach!
A decadent and delicious Wine & Chocolate Walk will be held in Downtown Daytona Beach on Saturday, February 11, from 1pm to 5pm. Who can resist spending a perfect day in Downtown Daytona Beach with their favorite sweetheart, friends or family?
The Wine & Chocolate Walk is a popular event for locals and visitors alike. Celebrating its 12th anniversary, the Wine & Chocolate Walk has become a yearly tradition. Landing just before Valentine's Day, there's just something magical about the combination of wine, chocolate and February!
The Wine & Chocolate Walk will have two check-in points (one on North Beach Street and one on South Beach Street) where attendees will receive their Wine & Chocolate Walk Passport, wine glass and beverage tickets.
Event attendees will spend the afternoon strolling through Downtown Daytona Beach visiting merchant stations, enjoying live music, looking at unique handcrafted art on display, shopping (pick up a little something for a Valentine sweetheart!), and free parking - all while sampling fine wines and delectable chocolate goodies. Decadence. Pure Decadence.
Advance tickets are $25/person and can be purchased online at Wine-Chocolate-Walk.Eventbrite.com through 11:30 pm Friday, February 10th. Tickets will also be available day of event at registration points for $30/person until sell out. For more information, please visit Downtown Daytona Signature Events Facebook page and Downtown Daytona Signature Events web page..
Another Distinctively Downtown Daytona Experience! The Wine & Chocolate Walk is sponsored by Brown & Brown Insurance, Downtown Development Authority, City of Daytona Beach, and Riverfront Shops of Daytona Beach.
Must be 21 to participate, proper ID required. This is a rain or shine event.
Historic Downtown Daytona Beach is a destination in itself, with several blocks of restaurants and shops all facing a beautiful waterfront park.
TYPICALLY A SELL-OUT - BUY YOUR TICKETS NOW!