About this Event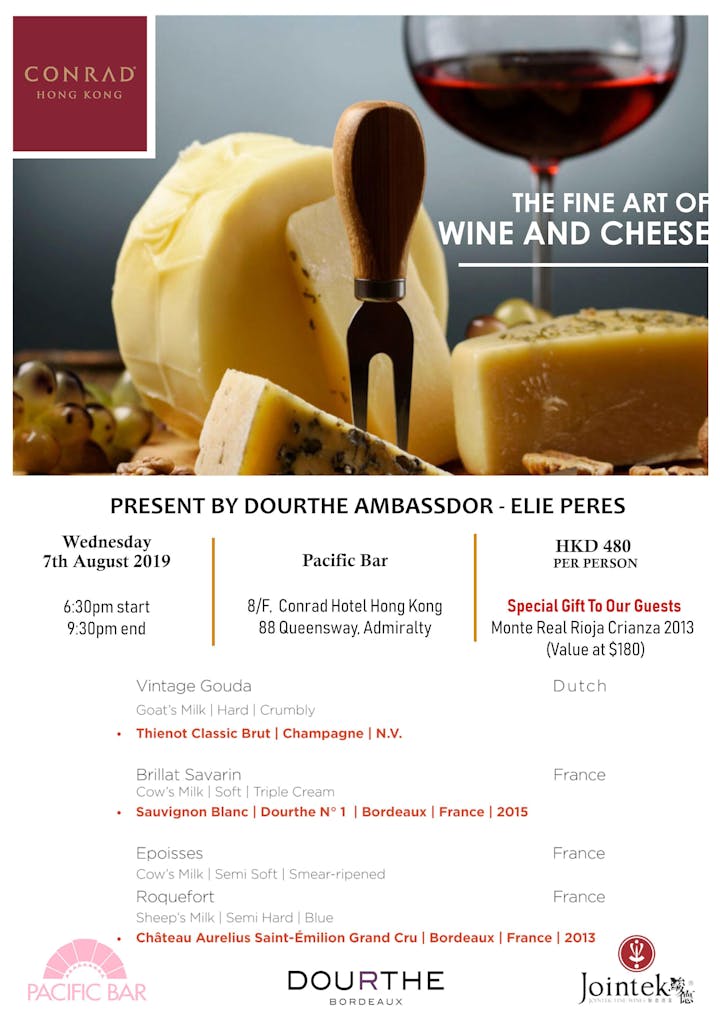 Dourthe are one of the best and most successful wine producers in Bordeaux. Since 1840. Dourthe No. 1's white was launched in 1988, with the red following in 1993, and is the result of a partnership between Dourthe, some talented winemakers and a team of dedicated growers at the company's partner vineyards. In 2011, Dourthe No.1 was serviced as the official wine in G8 National Conference.
We are delight to invite you to " Wine and Cheese Pairing Masterclass" at Pacific Bar, a sanctuary of comfort and a popular prelude to exquisite dining inside Conrad Hotel, on 7 August. In the master class, you will experience the free flow wine pairing with cheese.
1.Vintage Gouda Dutch (Goat's Milk | Hard | Crumbly)
>Thienot Classic Brut | Champagne | N.V.
2.Brillat Savarin France(Cow's Milk | Soft | Triple Cream)
>Sauvignon Blanc | Dourthe N° 1 | Bordeaux | France | 2015
3.Epoisses France (Cow's Milk | Semi Soft | Smear-ripened)
4.Roquefort France (Sheep's Milk | Semi Hard | Blue)
>Château Aurelius Saint-Émilion Grand Cru | Bordeaux | France | 2013
We are delight to give one bottle of Monte Real Rioja Crianza 2013 as a present to our guests. (Value at HKD 180)
Lets enjoy the free flow wines and champagne, and say "Cheese"