Wine Camp - An Introduction to Wine
When and where
Location
Eat Drink Americano 923 E 3rd St Los Angeles, CA 90012
Description

Learn the wine basics from A - Z! So Cal's #1 Wine Class - Wine Camp "Intro to Wine"

We believe it is easier to learn when the wines are exceptional and you can connect with a top educator!

Understanding how wine is made, improve your ability to describe what your tasting!

The method of tasting wine - use all your senses and new found knowledge.

Wine Pairing techniques - The way to think about pairing food and wine.

The do's and don'ts of wine service - Be a better host, a better guest.

How to purchase and store wine correctly

Taste seven great wines and acquire the skills to evaluate what you smell and taste.


History, anecdotes, laughs all served in generous proportions.
WINE LIST (As always, all wines are purchased from the restaurant, and may change)::

1. Buttonwood, "ZINGY" Sauvignon Blanc, Santa Ynez 2010
- fresh, crisp and clean - a stellar example

2. Paul Pernot, Bourgogne, Burgundy, France 2010
- a noted all-star producer, this wine is so precise, a perfect example

3. Riverbench, Chardonnay "Estate" Santa Maria, 2010
- produced by a legend, this wine is rich, ripe, round, full throttle and balanced with generous oak and butter!

4. La Fenêtre, Pinot Noir, Single Vineyard, Santa Maria, 2009
- mouthfeel, color, nose, aroma - check out this hot new producer of top quality Pinot Noir.

5. Duckhorn Napa Valley Merlot, 2009
- Top quality and value found here: chocolate cover cherry, toasted orange peal, yes we are going to drink some F-ing good Merlot

6. Silverado Cabernet Sauvignon Napa Valley 2007
- 93 Points James Suckling, 92 Points The Wine Advocate. Dark cranberry in color with a hint of baking spices in the nose.

7. Beekeeper, Zinfandel, Madrone Spring Vineyard, Rockpile, Sonoma County 2009
- A noble wine from one of Sonoma's top Zinfandel destinations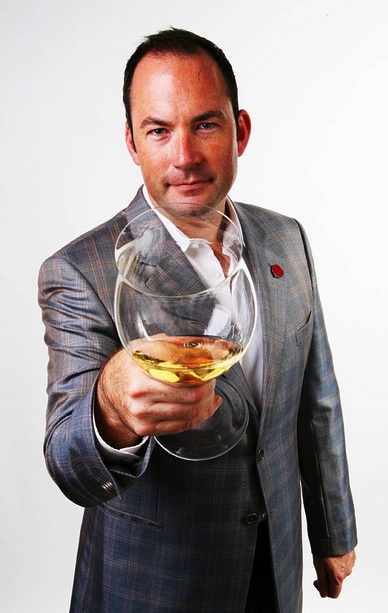 Ian Blackburn
Founder and Educator
of LearnAboutWine.com
Ian Blackburn, CSW, JWE - Founder of LearnAboutWine.com
Professional Sommelier, Candidate for the Master of Wine

Ian drinks wine for a living and plans over 100 public and private events a year. Ian stays busy designing tasting and events for both LearnAboutWine and private clients large and small; Fortune 500 company's, Law firms (Summer Associates), and private birthday celebrations all benefit from Ian's well informed and industry leading personality. When Ian is not busy teaching, he is making appearances on radio, television and social media outlets and studying for his Master of Wine.

Since 1995, LearnAboutWine has done the hard work of building a better culture for fine wine, opening the doors for more quality products to enter the marketplace and has taught over 500,000 students. With over 50,000 current subscribers and followers, LearnAboutWine now focuses on the best quality events and classes, and wine credential programs which have graduated over 450 wine students in the last 5 years with a Junior Wine Executive credential (JWE).
CHEESE SPONSERED BY: