Wine Blending

Multiple Dates
Event Details

6/8 UPDATE: Girls' Tickets are SOLD OUT! Gentlemen, secure the final tickets now.

HowAboutWe...become winemakers for the night at Brooklyn Winery?

HowAboutWe.com and the Brooklyn Winery have teamed up to bring New York singles an exclusive hands-on wine blending session in Brooklyn Winery's brand-new indoor/outdoor atrium space. Learn how to create wine you love by understanding your taste and blending different varietals.
Here's what you can expect:

• Start the night off right with an hour of prosecco sipping and hors d'oeuvres.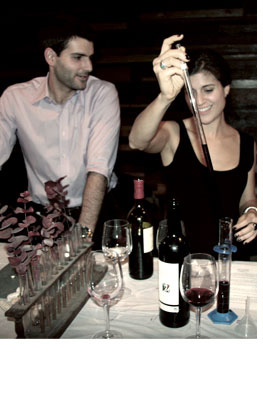 • Form your own teams as you are transformed into winemakers for the night, replete with scientific set-ups in the winery's brand new atrium space.
• Following a brief Bordeaux wine blending lesson (starting at 7 PM and led by Brian Quinn), it will be time to get your team mixing, and drinking, of course.
• Sip as you learn how to balance each of the 5 different grape varietals that comprise a great Bordeaux blend.
• At the end of the night, a winning blend will be decided and prize awarded to the victorious team.
• Mingle in the atrium afterwards as you enjoy the fruit of your labor.

We hope you'll join us! 


ABOUT HowAboutWe: By focusing on the actual date, HowAboutWe is all about making the online part easier so you can get to the dating part faster. HowAboutWe's Summer Event Series is all about having fun and meeting new people. Just show up, be prepared for a good time, and the rest will fall into place.

ABOUT Brooklyn Winery:Brooklyn Winery is not your typical wine bar. In fact, it's not just a wine bar—it's a winery. The Winery's goal is to remove the mystery surrounding wine by making this oft-intimidating beverage accessible in a variety of enjoyable ways.
________________________________________

produced by:
Brian Quinn Events
Website: BRIANQUINN.CO
Twitter: @BRIANQUINN


Where
213 North 8th Street
(btwn Driggs and Roebling)
Brooklyn, 11211


Multiple Dates
Add to my calendar