Event Information
Refund Policy
Contact the organizer to request a refund.
Eventbrite's fee is nonrefundable.
Professor Haki Madhubuti in conversation w/ Michelle Gipson about his book, "TAUGHT BY WOMEN: Poems as Resistance Language"
About this Event
Join us for WINE AND WORDS: Professor Haki Madhubuti with Michelle Gipson
Thursday, December 3, 2020 at 7:00PM EST streamed LIVE via Facebook and YouTube (see further details below).
About The Book
In these new and selected poems Madhubuti, formerly Don L. Lee, poet, publisher, editor, and activist, places us in lyrical proximity to a legacy of women whose lives he honors with heart warm verses and timeless reverence. Each poem is a vivid portraiture of the "magnificent energy" emanating from a rainbow of Black women. In this mosaic collection of poetry, Madhubuti celebrates the luminous spirits of women whose visible 'greatness' has left an indelible mark on his life's work. In Taught By Women, Madhubuti sings their struggles and praises with pitch perfect precision, every note— an empowering song and unforgettable melody.
About The Author
Born Donald Luther Lee in Little Rock, Arkansas, on February 23, 1942, Haki Madhubuti is a poet, essayist, and editor. He attended the University of Illinois and received an MFA from the University of Iowa.
Madhubuti is the author of more than twenty books, including Heart Love: Wedding & Love Poems (Third World Press, 1998); Groundwork: New and Selected Poems (Third World Press, 1996); Killing Memory, Seeking Ancestors (Lotus Press, 1987); Earthquakes and Sunrise Missions: Poetry and Essays of Black Renewal, 1973- 1983 (Third World Press, 1984); Book of Life (Broadside Press, 1973); and Directionscore: Selected and New Poems (Broadside Press, 1971). His prose works include Claiming Earth: Race, Rage, Rape, Redemption (1995), Black Men: Obsolete, Single, Dangerous? (1990), Enemies: The Clash of Races (1978), and Dynamite Voices I: Black Poets of the 1960s (1971). He is the editor most recently of Million Man March/Day of Absence: A Commemorative Anthology (1996).
The founder and editor of Third World Press and Black Books Bulletin, Madhubuti directs the Institute of Positive Education. Among his honors and awards are an American Book Award (1991) and fellowships from the National Endowment for the Arts and the National Endowment for the Humanities. He formerly worked as a professor of English and director of the Gwendolyn Brooks Center at Chicago State University.
***THE BOOK IS AVAILABLE FOR PURCHASE AT www.ThirdWorldPressFoundation.org ***
If you have any questions, please contact business@hammondshouse.org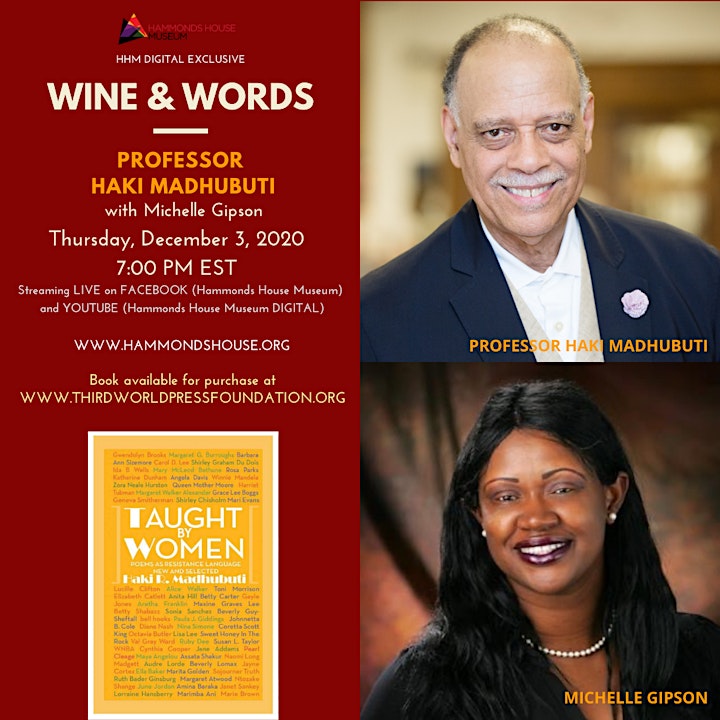 Date and Time
Location
Refund Policy
Contact the organizer to request a refund.
Eventbrite's fee is nonrefundable.