Windsor-Essex Mini Maker Faire 2019
Description
Although tickets are free, registration is needed to help us gauge how many people will be coming, and help us plan our exhibits and interactive displays so that we'll have enough materials for everyone to take part and enjoy.
Please note, that you must pre-register in order to be able to attend the event. Thank you!
FAQ'S:
What time is the Windsor-Essex Mini Maker Faire open to the public?
Doors open at 10am. The event ends at 3pm.
Where can I park?
Free parking is available on Sundays. There are also several parking garages located in Downtown Windsor. Please visit this link for more information

Where is the entrance?
Please enter through the "Front Entrance" on University Ave. Please visit this link for more information

Will there be food?
Not available at this time.

Can I volunteer at the Mini Maker Faire?
Yes! We're grateful for volunteers! Please contact us here.
What can I expect?
To have a fantastic time! You'll be surprised and intrigued with every corner that you turn.
I'm interested in participating as an exhibitor. How can I do that?
You must fill out an application. Our committee reviews all applications. When the final decisions are made, we respond to all applicants to let them know whether they have been accepted. Here is the link to apply. The deadline is February 25, 2019. Thanks for your interest!

Windsor-Essex Mini Maker Faire is independently organized and operated under license from Maker Media, Inc.
I understand that by registering here, Maker Media may provide me with updates and information about Maker Faires, other events, and products of interest to the maker community. I understand that I may opt out of these communications at any time.

Organizer of Windsor-Essex Mini Maker Faire 2019
About Maker Faire:
Maker Faire is the Greatest Show (and Tell) on Earth—a family-friendly showcase of invention, creativity and resourcefulness, and a celebration of the Maker Movement. It's a place where people show what they are making, and share what they are learning.
Makers range from tech enthusiasts to crafters to homesteaders to scientists to garage tinkerers. They are of all ages and backgrounds. The aim of Maker Faire is to entertain, inform, connect and grow this community.

The original Maker Faire event was held in San Mateo, CA and in 2016 celebrated its eleventh annual show with some 1300 makers and 150,000 people in attendance. World Maker Faire New York, the other flagship event, has grown in five years to 900+ makers and 90,000 attendees. Thirty-one larger scale Maker Faires occur in cities around the world—Detroit, Atlanta, Berlin, Paris, Rome, Tokyo, and Shenzhen to name a few— and over 150 community-driven, independently organized Mini Maker Faires are now being produced in the United States and in 34 other countries around the world.
About Make: Magazine: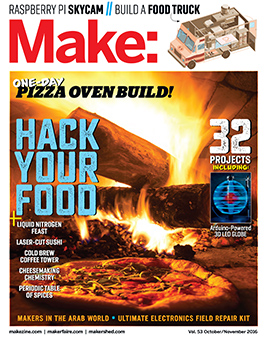 Make: is the first magazine devoted entirely to Do-It-Yourself (DIY) technology projects. Make: unites, inspires, informs, and entertains a growing community of resourceful people who undertake amazing projects in their backyards, basements, and garages. Make: celebrates your right to tweak, hack, and bend any technology to your will. Download a free issue here.
Besides the magazine and the faire, Make: is:
a vital online stream of news and projects, blog.makezine.com;
a retail outlet for kits and books, the Maker Shed;
a steady stream of fun and instruction via our YouTube channel;
Make: Projects, a library of projects with step-by-step instruction;
a publisher of best-in-category titles via Make: Books, including introductions to electronics, Raspberry Pi, 3D printing, Arduino and more.