Windows Phone Dev Camp @ Nokia Denmark

Tuesday, December 6, 2011 at 8:30 AM

-

Wednesday, December 7, 2011 at 4:00 PM (CET)
Event Details
(opdateret 02-12-2011 - 15:33)

Join the Windows Phone Dev. Camp @ Nokia
The Windows Phone Developer Camp @ Nokia is a joint event between Nokia Denmark and Microsoft Denmark (Developer Platform Evangelism group). It's a 2 day event that lets you know everything you need to know about Windows Phone Application development and the Metro UX design.
Whether you're a student just starting out or a seasoned developer for Windows Phone, Android, Symbian, Web OS or iOS, we'll share tips and tricks and all-around Windows Phone development know-how throughout the two days. Take a look at the agenda and select the day that best fits your needs – or join us for both. The choice is yours
The first day is packed with session split in 2 tracks and concludes with a dinner! Track 1 is all about application development for Windows Phone and on track 2 you will learn how to design stunning applications using the Metro UX (read more at http://twitpic.com/6wvihu and http://ux.artu.tv/?p=163).
Second day is devoted to hands-on labs and we strongly encourage you to bring you own laptop with the Windows Phone SDK already installed as we will not have hands-on machine available! Trainers and local developers will be available the entire day to assist you and help you get the most out of the hands-on labs!
Should you choose to use day 2 to start the development of you own application, we are more than happy to help you with that as well!
If you haven't got a Windows Phone already, you can win 1! In short, 100 first to build 3 apps and publish them to the Danish Marketplace will receive a Windows Phone. Learn more and read the official rules here (http://wpdk.cloudapp.net).
Social Media: We encourage you to use twitter tag: #wpdevdk. The tag will also be used to announce last minute changes and general communications from the event team.
The session list etc. will be updated as soon as we have the exact schedule in place!
Day 1 – Overview:
08:30 – Arrival, Registration and breakfast.
09:00 – Welcome by Alexandar Skronski and Martin Esmann.
09:10 – Track 1: Apps (speakers: Ben Riga & Ian Qvist) | Track 2: UX (speaker Arturo & Jared + Commentor) 
 

Track 1: Dev.

Track 2: UX

09:10-10:10

Windows Phone 7.5 Overview for Developers

METRO | the foundation

by Arturo

BREAK (15 min)

10:25-11:25

Building  Windows Phone 7.5 Applications with Visual Studio 2010

METRO | Design Language

by Arturo

Think | sketch, wireframe, prototype

by Arturo
11:25 – Lunch (50 min)
12:15 – Track 1 (speaker: Ben Riga) and Track 2 sessions (continued)
 

Track 1: Dev. (continued)

Track 2: UX (continued)

12:15–13:15

Building Windows Phone 7.5 Apps with Silverlight

Design | Visual, interaction, motion

by Arturo

BREAK (15 min)

13.30-14.30

Windows Phone 7.5 Fast Application Switching, Tombstoning and Multitasking

Refine | best practices

by Jared Potter

BREAK (15 min)

14.45-15.45

Live Tiles and Push Notifications

build | make it XAML

by Jared Potter

BREAK (15 min)

16:00-17:00

Building Games for Windows Phone 7.5

by Ian Qvist, Farseer Physics Engine

UX | Q&A – ask for UX advice!

Arturo and Jared

BREAK (15 min)

17:15-18:15

Monetizing a Windows Phone 7.5 Application

UX | Q&A – ask for UX advice!

Arturo and Jared
 18:30 – See you at the dinner! (vegetarian and non-vegetarian burgers)
 20:00 – Thank you and see you tomorrow for hands-on labs and UX sketching workshop!
Day 2 – Overview:
 09:00 – Arrival, Registration and breakfast.
 09:30 – Welcome by Martin Esmann (how can Microsoft and Nokia help your company succeed on WP)
 09:45 – Hands-on labs (App dev. & UX Sketching workshop) and own apps development (Breakout rooms)
 There will be trainers available to assist you with hands-on labs(Apps and UX) as well as questions you may have concerning your own application development and design! Hands-on will be managed by Ben Riga with support from our local Windows Phone partners.
 12:00 – Lunch
 13:00 – Hands-on labs (App dev. & UX Sketching workshop) and own apps development (Breakout rooms) - Continued
 16:00 – Thank you! Event ends – Please remember to complete your evaluation!
 (All sessions and hands-on labs will be in English)
 Q&A
What to do before you come?
Download the latest Windows Phone SDK (http://create.msdn.com/en-us/home/getting_started) to ensure you have the most up to date developer tools. On the day of the event, bring your laptop computer and identification.  In the meantime, don't forget to check out App Hub (http://create.msdn.com) where you can register to submit your app into the Windows Phone Marketplace. Remember that you will receive a App Hub voucher that will give you one year free membership. Students already get first year for free using dreamspark. 
Who should attend?
Developer Track: This track is targeted new Windows Phone developers that want to learn about Windows Phone development and the tools available like Visual Studio and Expression Blend. We begin with introducing the tools and all the way up to building complex applications.
Designer Track: This track is targeted UX designer that would like to know more about the Metro UI language. We begin with the motivation behind the new Metro UI and how to build graphics that fit within this digital authentic and simplistic looking UI, as the day progresses the focus will be shifted towards building animation and navigations using Expression Blend.
Mix and match! If you are an experienced Windows Phone developer, you may even have published a number of apps already; we encourage you to attend the Design track as this is likely to help you improve the look and feel of your new and existing applications! In the end UX is a key factor to success!
Why do I need to pay?
Yes your right! normally all our events are free and we very much like that approach, but lately we have had a lot of "no-shows" (People that register but never show up or cancel their registration). This is a limited number of seats event and therefore each no-show is potentially taking a seat from someone who would like to attend. With a small entry fee we hope that no-shows will cancel their ticket, instead of just not showing up!
But we are not here to make money of this event! Therefore we will use the entry fee to give you a free App Hub Developer sign-up voucher (99$)… meaning that just showing up saved you more than 400 DKK! 
What's included in the 100 DKK entry fee?
You mean besides a free App Hub developer account sign-up voucher (99$) and the best Windows Phone training available? Food and beverages! Yes we make sure that you won't be hungry :) both days! We might event through in a free Windows Phone t-shirt :)   
Hands-on labs (day 2) do I really need to bring my own PC?
Well yes and it needs to run Windows 7 to get the Windows Phone SDK installed! But honestly most developers always brings their laptop to events like this one and on the bright sight this way you can continue any unfinished hands-on laps when you get home :)
Is there a student discount option?
In short, No :) Honestly 100 DKK isn't even expensive. But I do promise that if we ever have a really expensive event there will be a student discount!
Event Details:
Location: The event is hosted at Nokia Denmark.
Nokia Denmark
Sydhavnsgade 17-19,
1790 Copenhagen
Denmark
Date: Dec. 6th to Dec. 7th (2 days)
Transportation!
By Public Transport:
Take the S-train (s-tog) to Sydhavn St.
Car:
There is parking available but remember to get a parking ticket from the reception, immediately after arrival.
Picture of the Nokia building (taken from the road):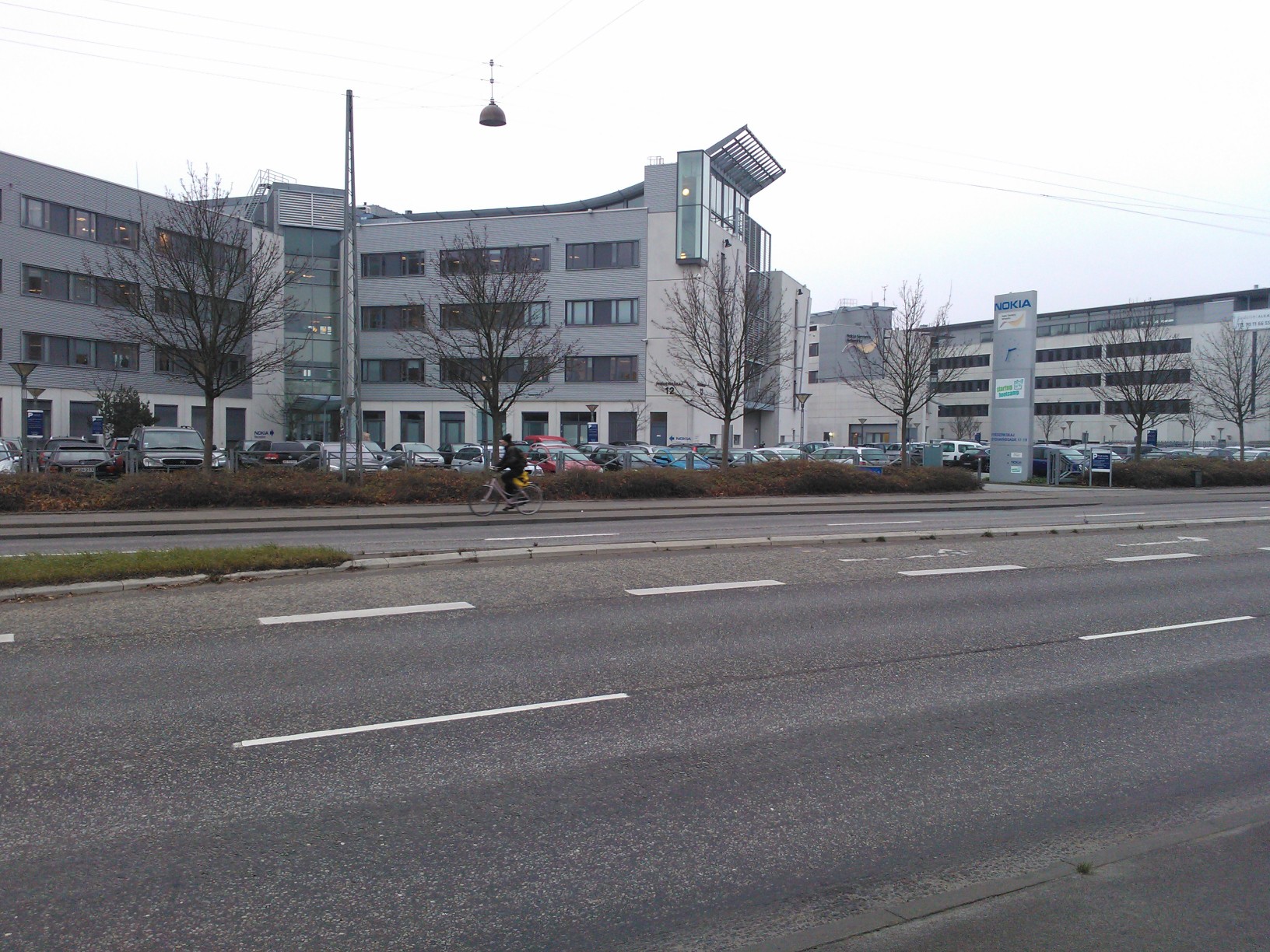 Attendee List
Sort by:

Date

|

First Name
When & Where

Nokia Denmark
Sydhavnsgade 19, 2450 København
2450 Copenhagen
Denmark


Tuesday, December 6, 2011 at 8:30 AM

-

Wednesday, December 7, 2011 at 4:00 PM (CET)
Add to my calendar
Windows Phone Dev Camp @ Nokia Denmark