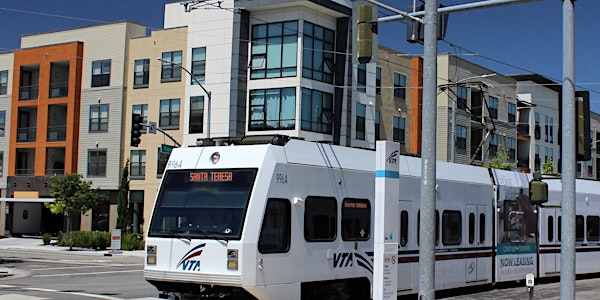 Winchester Station TOD Meet the Developer Community Meeting
Winchester Station Transit-Oriented Development Meet the Developer Community Meeting
By VTA & Santa Clara County
Date and time
Starts on Thursday, February 16 · 6pm PST
About this event
You are invited to join the Santa Clara Valley Transportation Authority (VTA) for an update on the Winchester Station Transit-Oriented Development (TOD) project. The property is located at 2400 Winchester Blvd in Campbell, and currently serves as the Winchester Transit Station Park & Ride lot.
VTA has partnered with developer teams, Related California and Path Ventures, to build a transit-oriented development project which will provide affordable housing in the area. In this meeting, you will have the opportunity to engage directly with VTA staff and the selected developer.
Staff will present a project update and introduce the developer's team.
Topics that will be addressed include
proposed site uses
site access
station area enhancements
project schedule/what to expect next
Your participation is encouraged and can help shape this future development and improve the station area.
Spanish translation will be provided at the meeting. Individuals who require other language translation or accommodations are requested to contact VTA Community Outreach at (408) 321-7575/TTY (408) 321-2330, or email community.outreach@vta.org, by February 13, 2023. Additional information is available at www.vta.org/winchesterdevelopment.
You can join us directly on Zoom at: www.zoom.us/join
Meeting ID: 850 8946 3742
Passcode: 168697
One tap mobile: +16692192599,,85089463742#,,,,*168697# US (San Jose)
Dial by your location: (669) 219-2599
To view the livestream, without participating, you can watch this meeting on YouTube: https://www.youtube.com/watch?v=6AeAIknd_us
Spanish
Lo invitamos a acompañar a Santa Clara Valley Transportation Authority (VTA) en una reunión para obtener una actualización sobre el proyecto de Desarrollo Orientado al Transporte Público (TOD, por sus siglas en inglés) de Winchester Station. La propiedad está ubicada en 2400 Winchester Blvd., en Campbell; y actualmente funciona como el lote de estacionamiento Park & Ride de Winchester Transit Station.
VTA se ha asociado con los equipos de las empresas constructoras: Related California y Path Ventures, para construir un proyecto de desarrollo orientado al transporte público que proporcionará viviendas asequibles en el área. En esta reunión, tendrá la oportunidad de interactuar directamente con el personal de VTA y la empresa constructora seleccionada.
El personal presentará una actualización del proyecto y presentará al equipo de la empresa constructora.
Los temas que se abordarán incluyen:
usos propuestos para el sitio
el acceso al lugar
mejoras en el área de la estación
cronograma del proyecto/qué es lo que se espera que pase enseguida
Se alienta su participación para que, con ella, ayude a darle forma al diseño del futuro desarrollo y a mejorar el área de la estación.
Se proporcionará traducción al español en la reunión. Las personas que requieran traducción a otros idiomas u otro tipo de adaptaciones deben comunicarse con el Programa de Extensión de la Comunidad de VTA, Community Outreach, llamando al (408) 321-7575/TTY (408) 321-2330, o enviando un correo electrónico a community.outreach@vta.org, antes del 13 de febrero de 2023. Puede acceder a información adicional disponible visitando: www.vta.org/winchesterdevelopment .
También puede unirse a nosotros directamente en Zoom en: www.zoom.us/join
Identificación del Webinar: 850 8946 3742
Código de acceso: 168697
Utilice la aplicación iPhone one-tap: +16692192599,,85089463742#,,,,*168697# US (San Jose)
O marque al: (669) 219-2599
Si prefiere puede ver la reunión en YouTube si no desea participar en las actividades o proporcionar sus comentarios. https://www.youtube.com/watch?v=6AeAIknd_us