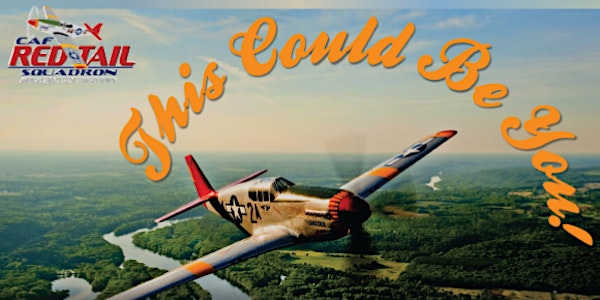 Win the Chance to Fly in a P-51 Mustang!
When and where
Location
Tacoma Narrows Airport 1110 26th Avenue Northwest Gig Harbor, WA 98335
Refund Policy
Contact the organizer to request a refund.
Description
Win the chance to fly in a P-51 Mustang!
The 5th annual Gig Harbor Wings & Wheels Air and Auto Show at the Tacoma Narrows Airport, will host the Commemorative Air Force (CAF) Red Tail Squadron's RISE ABOVE Traveling Exhibit and P51-C Mustang honoring the Tuskegee Airmen on July 5th 2015.
Even more exciting – the Red Tail Squadron has partnered with the Greater Gig Harbor Foundation to offer an unbelievable "Bucket List" opportunity for one lucky winner to ride in the Tuskegee Airmen's historic P-51C Mustang!
The ride is a 30-minute thrill transporting you back to the dogfighting days of WWII, feeling and hearing the sounds of the roaring Rolls Royce engine as you fly over Washington's stunning South Puget Sound.
Value: $2,000
Flight Date: July 5, 2015
Drawing: 3:00 pm - July 5, 2015
Location: Tacoma Narrow Airport
Flight Time: 4:00 p.m.
- Raffle runs May 2, 2015 and ends July 5, 2015 at 2:59 p.m.
- Rider must be over the age of 21 and physically able to get in and out of the airplane under their own power.
Raffle proceeds benefit GGHF Curious by Nature School's early childhood education programs and funding for tuition assistance grants for area families in need to help close the early learning access gap in our community and give all children, especially those in greatest need, the strong start they need and deserve. The school offers a one-of-a-kind, nature-based early-learning program where children go outside to learn, explore and play every day, rain or shine!
The Squadron's RISE ABOVE exhibit travels the country and this will be their first ever west coast appearance. The exhibit allows you to put yourself in the cockpit and soar above the clouds in your own P-51C Mustang. Also included is the original film, RISE ABOVE, on a 160-degree panoramic screen in a 30-seat temperature-controlled theater. The RISE ABOVE exhibit highlights the courage and determination of the Tuskegee Airmen, who overcame obstacles to train and fight as U.S. Army Air Corps pilots, and what it means to us 60 years later.
The RISE ABOVE educational outreach program shares the Tusgekee Airmen's story with young people as an inspirational example of how they can 'rise above' all challenges. The exhibit centers on the importance of studying science, technology, engineering and math (STEM) and is based on the six guiding principles that reflect the Airmen's efforts to be recognized as American patriots and warriors:
Aim High, Believe In Yourself, Use Your Brain, Be Ready To Go, Never Quit, and Expect to Win
For more information on the Greater Gig Harbor Foundation or GGHF Curious by Nature School, please visit www.gigharborfoundation.org
*Winner must be present, able to take flight on stated date and time, and sign the CAF
flight agreement prior to boarding the aircraft. In the event of weather or mechanical conditions that prevent the winner from receiving the P-51 Mustang ride winner will receive a $500 cash prize. All raffle sales are final and non-refundable.Other conditions may apply.
The Greater Gig Harbor Foundation is a charitable 501 (c)(3) nonprofit organization serving the greater Gig Harbor and Key peninsula region of Washington's South Puget Sound. All donations are tax deductible to the extent allowed by law.