Event Information
Location
Prudential
655 Broad Street
(Secured Building/No Onsite Registration)
Newark, NJ 07102
Description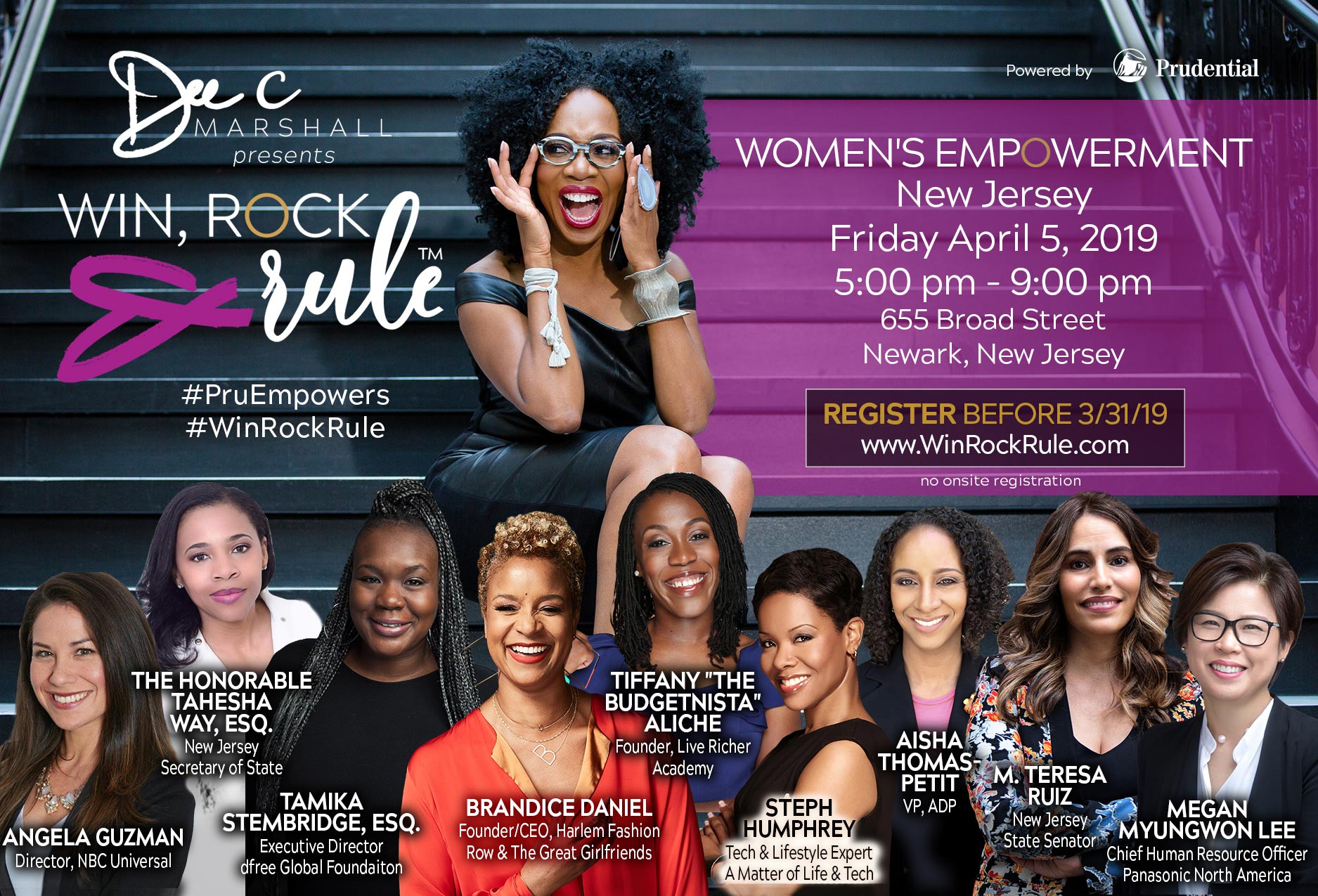 Are you stalled in your career?
Is your gift bigger than your job?
Are you tired of dead-end positions?
Are you itching for a new opportunity?
Are you ready for a promotion?
Do you need career advice?
Is it your desire to make a career leap?
Are you ready to up-level your career?
Are you frustrated that you are not living up to your potential?
Do you need more visibility?
If YES... get your ticket now or learn more at www.WinRockRule.com
WHO SHOULD ATTEND...
Professional women
Mid-level and mid-career women
Entrepreneurial women
Brand influencers and bloggers
WHY SHOULD YOU ATTEND ...
Access to high-ranking women leaders across industries ...
Guest speakers with best practices on how to up-level your career ...
Opportunity to meet industry insiders who can help you where you struggle most ...
Chance to shift your career and change your life ...
Complimentary career headshots and career coaching (limited availability) ...
Sound good...get your ticket now or learn more at www.WinRockRule.com
WHAT CAN YOU EXPECT ...
Reception, keynote, panel discussion, awards presentation and Career Corner resources ...
Dr. Avis Jones DeWeever, Media Commentator, International Speaker @therealdr.avis

DaVita Garfield, Business Systems Strategist @davitap-empowermentnow

Robin Devonish, The Self Publishing Maven @robindevonish

Sonia Lewis, CEO of the Student Loan Doctor @thestudentloandoctor

Tracy Cooper, CEO of the Resume Workshop @resumeworkshop

Tray Kearney, Certified Coach, @Traykearney

Headshot Opportunity by Tamara Fleming, CEO of Tamara Fleming Photography, @iamtamarafleming
WHAT ARE OTHER WOMEN SAYING ...
"Dee Marshall's Win, Rock & Rule event is one of a kind. She is able to bring women of different backgrounds and industries together for impactful networking to increase their connections and empower them to move forward on their career, increase their financial acumen and support each other. Participants can take advantage of executive coaching that I and other coaches offer as part of the pre-event offering. This year the lines were out the door with women seeking information about tax, student loan, resume and career advice. Maddie Brooks and her team have been great. I have worked with Erica Booth, the Tax coach for my small business and several of the attendees have reached out to request proposals for ongoing executive coaching." - Karen Delk President, Davis DelkConsulting"
Hi Dee,I wanted to send a quick note thanking you for the wonderful opportunity to partner with you on Win, Rock, Rule's Empowerment. I enjoyed the event and appreciate the great media coverage you showed L3. I look forward to connecting again in the future and wish you continued success. - LaToniaPouncey Corporate Manager and Head, Diversity & Inclusion L3 Technologies, Inc.
I've attended two Win, Rock and Rule events. Both have been shifted the way I think and the I show up in a room. The first event Dee Marshall encouraged the room to meet that one person you needed to start a relationship with. I met SakinaSpruell. At the time I had shot a couple of episodes of my new talk show series, and was looking to get it picked up by a digital network. Sakinahad already had a project acquired by a digital network. She talked me through the process and introduced me to someone starting his own digital network. The contact took interest in my show and gave me a hosting job on his network. Win, Rock and Rule brings real women together—to make real connections and yield real results! It's a must attend event! - Kristen Pope News 12 Boston
I came to Win, Rock and Rule in 2015, knowing very little about the event. I was so inspired by the information that I received and the professional women that I have met. Coming to this event inspired me me to become a Certified Professional Life Coach later that year. In 2016 I was the recipient of the resilience award, knowing that even in the most difficult times you still can achieve your goals. This is a great opportunity to network with professional women who are willing to uplifted, and motivate you to your next level. This event has been a blessing to me in so many ways. My character, leadership and service to others. Thank you Dee - Annie Guy Certified Professional Coach
Win, Rock & Rule provided a platform for BlackFemto broaden its footprint into NJ. Without this platform, we could not say that we have the ability to generate up to $250,000 of wealth in Newark, Trenton, and Camden. The opportunity to launch such in an effort made by and led by women makes this even more exciting. Dee captured the infectious energy of the amazing people in the room to understand the seriousness of BlackFem'spurpose. We are so grateful! - Chloe McKenzie, Founder Black Fem.
"Win, Rock and Rule is more than an event, it is a transformational experience that challenges Women to be their best selves. After attending my first WWR at Prudential Tower I was inspired to look at my net-worth and build wealth leading me to follow up with one of the PRU Financial Planners. Since then I have had several meetings with my FP, purchased life insurance for my husband and I, and am working to build my retirement fund. WWR provided the connections needed to up level my finances, protect my business and leave a legacy and for that I am truly grateful. " - Shakira Monet Johnson
As a professional who works remotely, networking can be a challenge. Win, Rock & Rule 2018 furnished not only the venue to meet career minded, authentic, and ambitious women of color, it also provided the avenue to form bonds that I would not have the opportunity to make otherwise. The Career Corner was especially motivational because it demonstrated the value of gaining a legitimate professional coach in your corner – Joey Thomas, Paralegal
Not only was Win, Rock & Rule motivational and uplifting, I met and am now using one of the Financial Planners from Prudential, I networked with a photographer who updated my headshot and I am servicing a first-time homebuyer from Roselle – Lynette Carrington, Re/Max Platinum Realtor
Win, Rock, Rule is an impactful and necessary convening of women who leverage the power of networking to produce real results. Because of WRR and the momentum that it sparks, the City of Newark, through Newark Community Economic Development Corporation, was able to launch it's first crowdfunding platform for women (iFundWomenNewark) and is working to offer an unprecedented financial literacy program city-wide (BlackFem) to public school students. Black women are the fastest growing segment of entrepreneurs and it is critical that we support programs like WRR, particularly during periods of growth in cities like Newark. - Aisha Glover, President & CEO, NEWARK Community Economic Development Corp.
Dee Marshall's Win Rock & Rule Women's Summit was a breath of fresh air. Women from all walks of business in one place seeking to be inspired, empowered and encouraged. Once this was achieved you couldn't help but want to do the same for other women in your life. It was fun, freeing and the speakers were great! It also provided a nice networking opportunity. The ladies of Panasonic really enjoyed themselves – black, brown and white. We promised to support, uplift and empower each other. We were reminded to find our voice, create our opportunities and be who you are – the brilliant, awesome, beautiful woman God has created! Thanks Dee – You Rock!!! - Terri Seeney-Majette, Director, Community Relations & Outreach Programs Panasonic Corporation of North America
Sound good...get your ticket now or learn more at www.WinRockRule.com
Date and Time
Location
Prudential
655 Broad Street
(Secured Building/No Onsite Registration)
Newark, NJ 07102