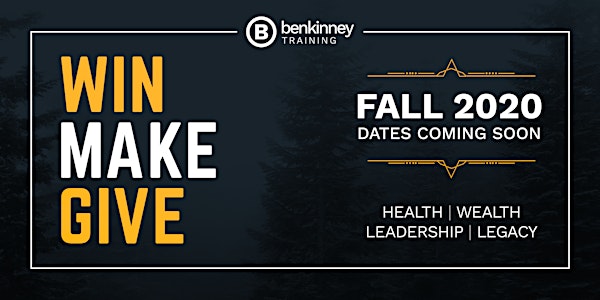 Win Make Give 2020 - A Ben Kinney Training Event
When and where
Location
Bellingham, Washington 2211 Rimland Drive Bellingham, WA 98226
Description
THIS EVENT HAS BEEN POSTPONED UNTIL FURTHER NOTICE DUE TO COVID-19.

Building an amazing life starts with you becoming the "BEST YOU" possible.
Health | Wealth | Leadership | Legacy
If these areas are important to you, then you won't want to miss this unique and exciting opportunity to join Ben Kinney and his special guests for this live, life-changing event. Win Make Give will take you through the models and systems that are proven to develop your skills in health, wealth, leadership and building a legacy.
The event is open to attendees 16 years and older. Spouses and partners are encouraged to attend. This is a Leadership, Business, Wealth, and Legacy experience like no other that applies to people in all industries and stages of life.
Past special guests include:
Tom Wheelwright, CPA and best selling author of Tax-Free Wealth

Sam Walker, The Wall Street Journal's leadership columnist and author of The Captain Class.

Michael Michalowicz, entrepreneur, lecturer, and author of Clockwork, Profit First, Surge, and The Pumpkin Plan
David Goggins, "the toughest man alive"
Brad Inman, founder of Inman News and real estate technology legend
Paul Meeks, veteran tech investor who shows up regularly on CNBC
Bradford Loomis, singer-songwriter

Multiple CEOs and financial experts who shared tangible business and money advice
Winning:
This requires what Ben Kinney calls mastery in "self-leadership". Self-leadership is about becoming the person your dreams require. This is a collection of models and systems aimed at changing the way you think, feel, and communicate.
Only after you have mastered leading yourself can you try to lead others. Leading others through fear and title only is a shortcut to failure. Succeeding through others requires a commitment to studying leadership and putting into practice leadership lessons. Leading and attracting the right people into your life is the secret to success in your career and in business.
Warren Buffet on highly successful people: "The difference between successful people and really successful people is that really successful people say no to almost everything."
Making:
When you succeed at leading, wealth finds its way into your life. The richest people in the world gained their wealth through buying and building businesses and through loaning money and understanding interest. Most people would think it was through real estate investing which would be incorrect.
At Win Make Give, we will spend time studying successful businesses, understanding the steps to build your own, how to buy businesses, and when to sell them. These businesses will be the funding arm of your future wealth.
How much wealth you create is up to you and will be determined by your knowledge of wealth and what wealth models you implement into your life. We will discuss, in-depth, how to master money management, financial instrument investing, creating a real estate portfolio, and legally minimizing your tax liabilities through smart saving, investing and business structuring.
Giving:
With great wealth comes great responsibility and great opportunity to leave a lasting legacy through your leadership and your generosity. Learn from successful non-profits and other organizations a simple strategy for making an impact while helping your community, employees, and your business.
Proceeds will support the charities held most dear to the Ben Kinney Companies and its employees.

There are three types of tickets for Win Make Give. PLEASE READ CAREFULLY - THERE ARE NO REFUNDS at the event.
Base Experience: $699 - Includes access to all the daily class content, take-home materials, daily special speakers, and the opening ceremonies Monday night. EXCLUDED in Base Experience: No Early Morning Healthy Surprises (7-9am) or Nightly Surprise Private Events (7pm - 10pm)
Full Experience: $1099.99 - Includes all morning, day, and night events starting Monday night and ending late Wednesday night.
VIP Experience: $2099.99 - Adds a special VIP ONLY DAY and includes everything in the full experience plus Win Make Give special gifts, private small mastermind at a unique private venue, surprise activity, and exclusive seating at classes and after-hours events with early access to the venues.
AGENDA - Main Event
"This will be my life's greatest contribution to you and I guarantee it will change you and your family's life."
-Ben Kinney
About Ben Kinney
Ben Kinney is a nationally-known entrepreneur, professional speaker, best selling author, trainer, innovator and mega real estate agent, but prefers the title of "nice guy." In the last few years, he has personally trained over 100,000 business owners via conferences, classes, and webinars. Ben owns and operates multiple Real Estate Realty Franchises across 3 countries, 25 real estate expansion businesses all across North America, 7 software companies, BKCO Morgage, Forward Coaching, and the Ben Kinney Training Organization.
EVENT DETAILS, HOTEL BLOCKS, AND OPTIONS WILL BE EMAILED TO ATTENDEES ONLY AFTER REGISTRATION
---
FAQs
Cancellation Policy
This event issues no refunds under any circumstances. Any and all payments made to this event are not refundable for any reason, including, but not limited to, illness, acts of God, travel-related problems, acts of terrorism, loss of employment and/or duplicate purchases.
Transfer Policy
You may transfer your event registration to another individual for the same event you are registered for by notifying us in writing at info@benkinneytraining.com. All substitution requests will be processed within two business days. Attendee substitutions on or after the start of the event will require a $150 fee.
Force Majeure
If events beyond the reasonable control of the parties, including, but not limited to, acts of God, war in the United States, strikes, terrorist attacks in the city where the event is being held, or curtailment of transportation either in the event city or in the countries/states of origin of the attendees, which prevents at least 40% of the attendees from arriving for the event, so that it is impracticable, illegal, or impossible to hold the class, Win Make Give may cancel the class and offer attendees a credit for a future Win Make Give or other Ben Kinney Training class in the amount of the paid registration fee.