Description
The Wealth Inspiration Network (WIN) Program is designed to assist entrepreneurs in creating even more success in every area of one's life! Powerteam provides an environment for the attendees to be a part of a global think tank. At the event, all members will speak to the group and share the concepts and ideas for their business. The members, along with a few VIP celebrity experts, will be on hand to provide feedback and constructive insight to help you take your business to the next level. WIN members meet on a semi-annual basis at exotic locations. The events always offer a great deal of high level education, combined with an amazing selection of social events to allow everyone to get to know each other and build lifelong global relationships and partnerships. At the WIN events, you will gain priceless wisdom from the speakers as well as the members.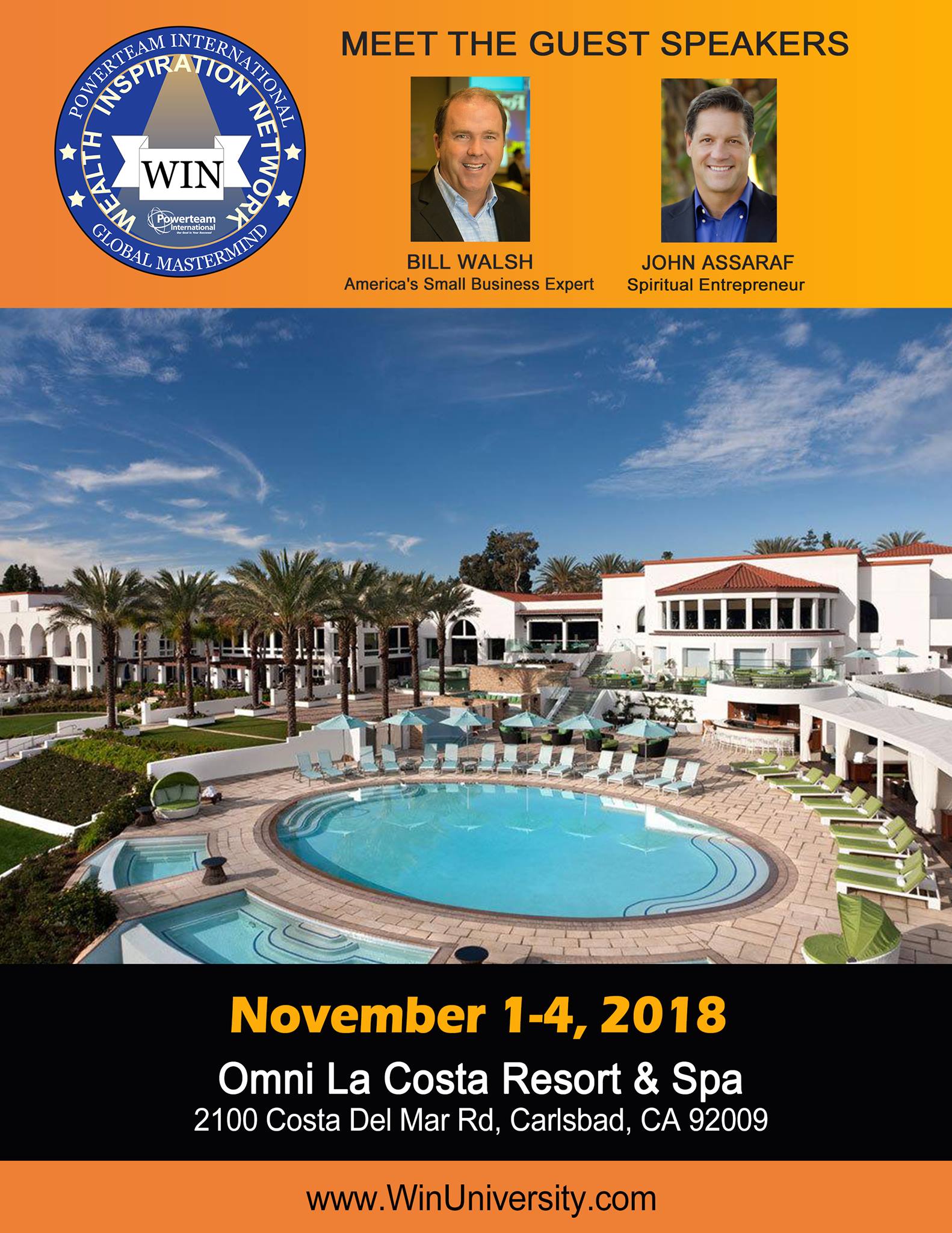 Event Schedule:
Thursday, November 1
2:00PM Registration & Welcome Session
3:00PM - 8:00PM General Session

Friday, November 2
9:00AM - 1:00PM General Session
3:00PM - 5:00PM Pool Party
8:00PM - 10:00 PM VIP Dinner Party

Saturday, November 3
9:00AM - 1:00PM General Session
1:00PM - 8:00PM Open Time
8:00PM -10:00PM Cocktail Reception

Sunday, November 4
9:00AM - 1:00PM General Session
MEET John Assaraf

John has built 5 multimillion dollar companies, written 2 New York Times Bestselling books and featured in 8 movies, including the blockbuster hit "The Secret" and "Quest For Success" with Richard Branson and the Dalai Lama.
Today, he is founder and CEO of NeuroGym, a company dedicated to using the most advanced technologies and evidence based brain training methods to help individuals unleash their fullest potential and maximize their results.