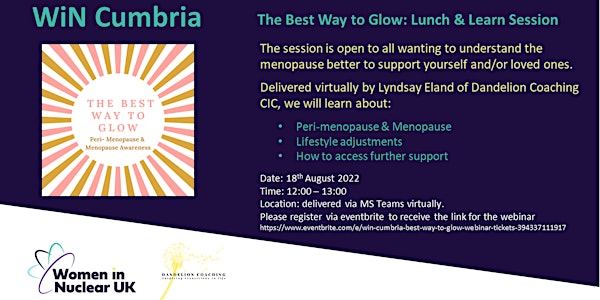 WiN Cumbria Best Way to Glow Webinar
Open to all - A bitesize webinar "The Best Way to Glow" Lunch & Learn session to introduce and increase awareness around the menopause
About this event
WiN Cumbria offers "The Best Way to Glow" lunch & learn session delivered by Dandelion Coaching.
Delivered by Lynsey Eland of Dandelion Coaching, the session will cover:
Peri-menopause and Menopause: A introduction of the cause, physical symptoms, and emotional difficulties experienced with peri-menopause and menopause.
Lifestyle adjustments: Exploring simple supportive tools and tips, helping you take positive action throughout your normal day.
How to access further support: Further information on how and where to access support.
The session will be delivered virtually through MS Teams and you will receive a calendar invite with the link to the webinar once you have registered for the event.
About Lynsey:
Lynsey Eland founded Dandelion Coaching in 2021 offering Menopause and Peri-Menopause Awareness through The Best Way to Glow and Glow in the Workplace Workshops for individuals, groups, and organisations
This passion was born out of her personal experience of early menopause before she was 40.She also offers women individual coaching through any transitional moments in their lives.Lynsey is also a Service Manager and Trainer at Carlisle and Eden Mind with over a decade of experience.
About Dandelion Coaching:
We're specialists in helping women to navigate their way through the different stages of menopause. We do this through open workshops in the community, workplace workshops and 1-2-1 coaching.
We're a not-4-profit Community Interest Company.