Win a Chance to see HAMILTON on Broadway! Support BodyART in Harlem!
Event Information
Location
Richard Rodgers Theatre
226 West 46th Street
New York, NY 10036
Description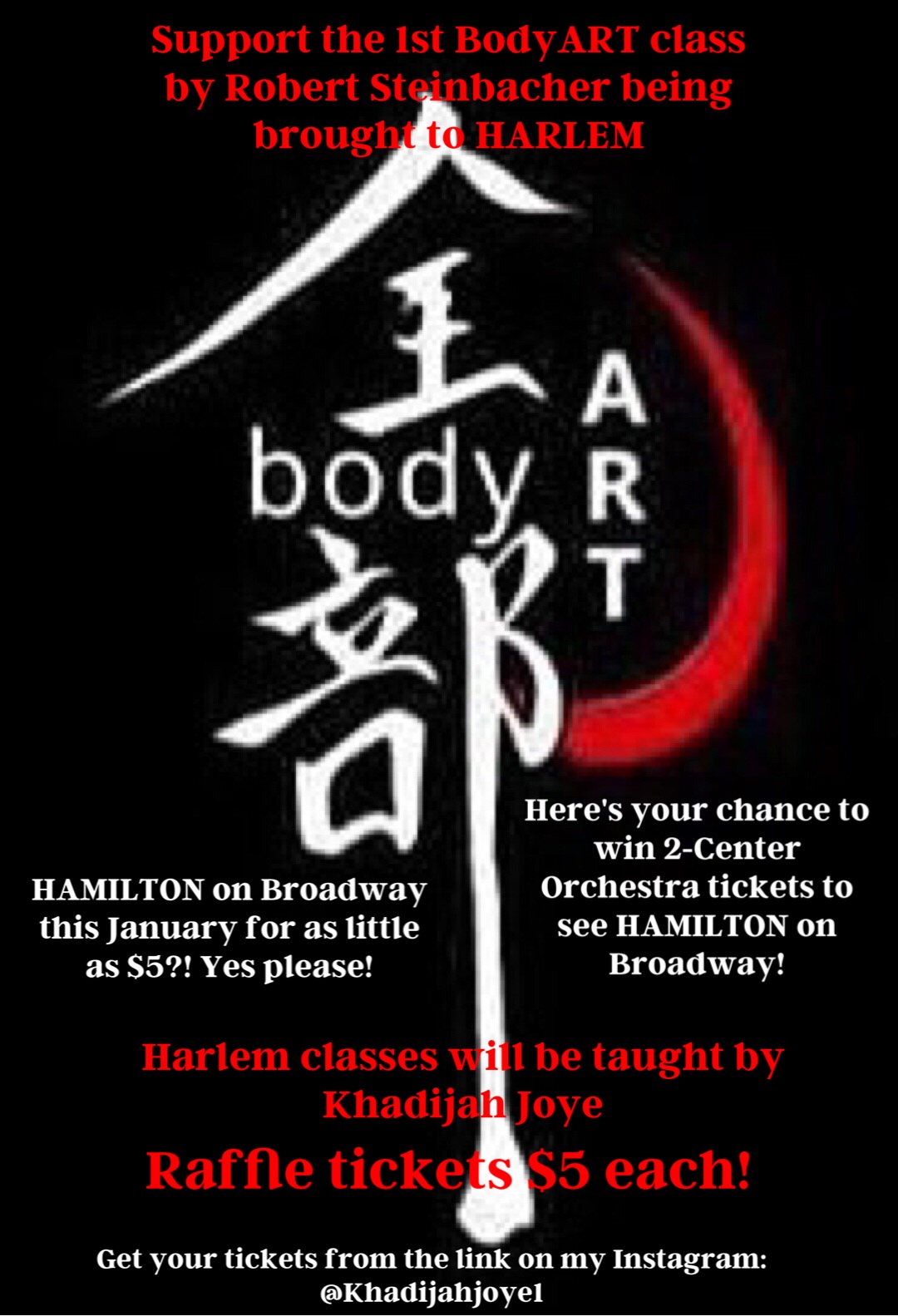 I want to thank my Supporters by giving you all a chance to see the hottest show in town with me!
Hamilton on Broadway!
2- Center Orchestra Tickets on January 4, 2017 at 8pm.
Raffle tickets are only $5 each. Get your chance before they SELL OUT.
The more you buy the greater your chance to see HAMILTON!
I will be having a LIVE drawing through Facebook on Christmas Day!
It will make the perfect Christmas present!
Just think... You could be the lucky winner to be going to see Hamilton with me on January 4th!
Stayed tuned in to https://www.instagram.com/khadijahjoye1/ for updates, fitness events, classes, bonuses, and more.
Stay tuned for the date of the event and also possible BONUSES!
FAQs
-What is bodyART?
It is NOT body painting. bodyART® is a functional movement training system designed by Robert Steinbacher that balances your strength, flexibility and mental concentration. All bodyART classes are done barefoot with your body as your only equipment, and by using breathing techniques to enhance your performance.
-Where can I contact the organizer with any questions?
K_joye@yahoo.com or https://www.instagram.com/khadijahjoye1/
-Is this real? How can this be possible? How could you just be giving these away?
YES this is real. I have 2 extra tickets to see Hamilton on Broadway. I want to be able to finance my growth in the fitness industry. I'm not one to just ask for handouts or donations. I'd rather give back a bit. By raffling off these tickets it allows me to fund my fitness venture, bring a new style of fitness into an area of the city (Harlem) where it is much needed, and do it all the a fun way.
-Can I update my registration information?
Yes. If you are chosen as the winner and would like to give your 2 tickets to someone else just contact me directly at k_joye@yahoo.com.
-What is the date for the 2- Hamilton on Broadway tickets?
The date for the ticketed performance will be January 4th, 2017 at 8pm.
-What kind of seats are these?
These are for 2- Center Orchestra seats.
-Bonuses???
Yes there will be a surprise bonus. I love surprises. So you know it will be good.
Date and Time
Location
Richard Rodgers Theatre
226 West 46th Street
New York, NY 10036