**Win $100** Slam Poetry Contest with Judge Keith Murray Open Mic Hip Ho...
Description
Meet Keith Murray, Rapper.
Enter the Contest or make sure that you attend the $100 Poetry Slam Contest on October 19th at Queens Underground Poets for a night of Real, Raw, Authentic Poetry.
Come Out To Support and Help The Judges Pick The Winner! Doors Open at 8pm
Email: QueensUndergroundPoets@gmail.com to sign-up for a chance to win $100!
Follow us on Instagram: @QueensUndergroundPoets for upcoming Nights and Special Events.
Ready to join the home based Poets Group? Contact us today and represent Queens in various Showcases, Performances, & Contests.
Cover Charge $8. Cocktails (virgin), Beverages, Appetizers Available for purchase. Door Prizes, Free Gifts, Raffles.
Cover at Door $11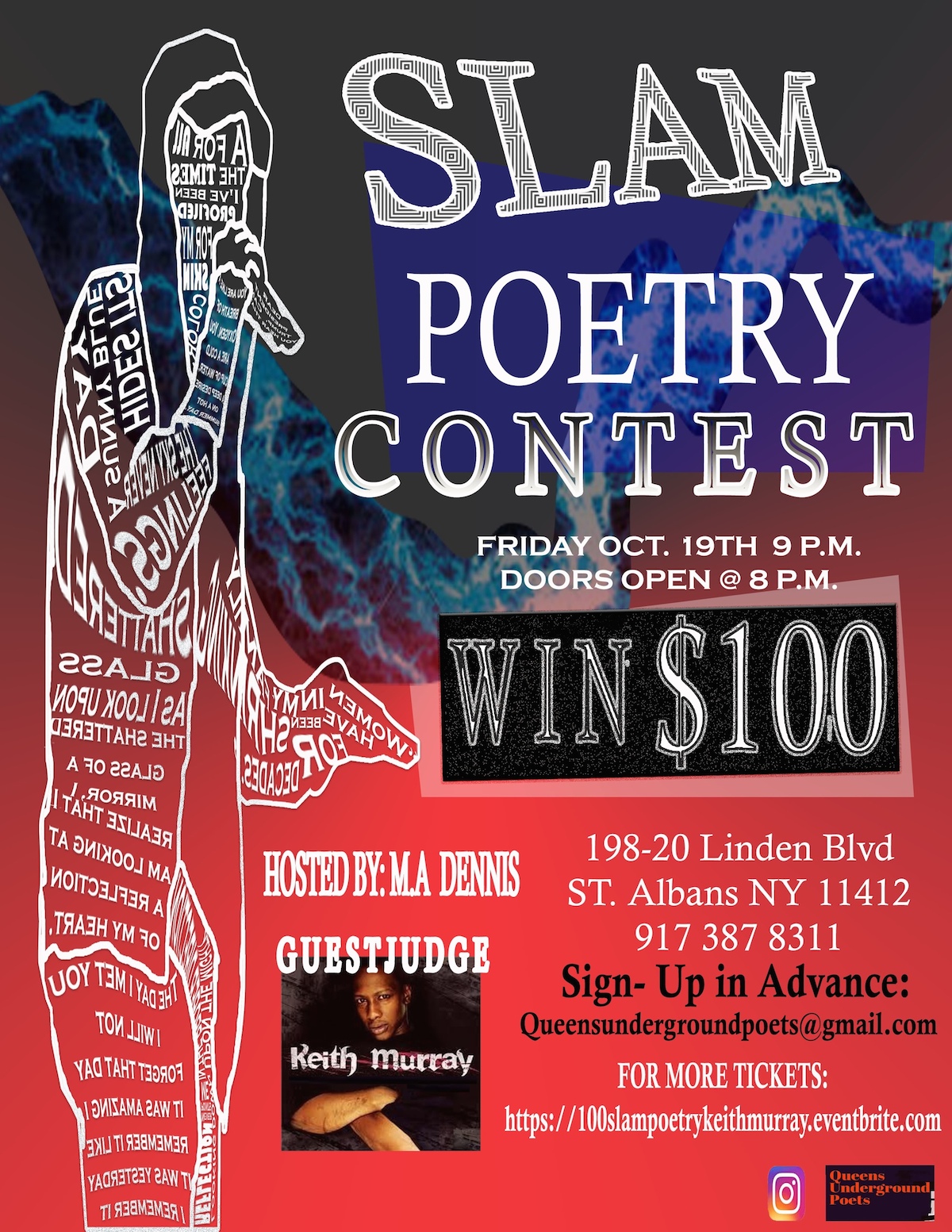 #openmic #slampoetry #contest #poet #wine #mocktails #chicken #dessert #undergroundpoet #poetry #poetrycontest #slampoetrycontest #wildingout #eventsnyc #Saturday #saturdaynight #liveperformances #appetizer #writer #queensny #southjamaica #jamaicany #slampoet #openmicnight #takeoverTuesday #thingstodo #blackmenwrite #author #eventspace #showcase #listeningparty #party #rental #holidayparty #sipandpaint #jazz #randb #r&b #jazz #reggae #liveband #rapper #singer #musician #rehearsalspace #jamsession #recordingstudio #musicvideo #soundstage #jazzband #singinggroup #newartist #indieartist #rapgroup #bacheloretteparty #christening #birthdayparty #anniversaryparty #datenight#girlsnightout #freerental #freepartyrental #cateringhall #artgallery #artshow