Description
Beginners dance classes this October at The Cedars Ranch, Wimberley
Wednesdays, October 2, 9, 16 & 23, 7-9pm
4-Week Sessions Cost: $40/single, $75/couple
October Sessions: Country & Western Buffet - Two Step, Polka, Waltz, Slow Dance
---
Introducing Dance Teacher, Valerie Ryan
Valerie has been teaching dance classes since 1992. She offers social dance lessons with her company QuickSilver Dancers in Country & Western, Swing, Ballroom, Latin, and Line Dancing; and works with anyone from absolute newcomer to experienced competitor. Her goal is to help you feel comfortable and relaxed on the dance floor because, not only is dancing great exercise, it is also great FUN, and you will meet some terrific people out on the dance floor.
About the Monthly Classes
Valerie's monthly group classes are taught in a unique two-hour format, allowing you to reinforce prior lessons with a structured review before getting new material, which builds confidence in your dancing experience from week to week. These beginner classes are open to anyone; she will teach you everything you need to know about the dance -- its character and rhythm, its basic step and the first easy patterns -- so you can be out having fun in no time at all!
Dance Shoes
"Unlike most ballroom dance instructors who insist that you spend $90 for proper dancing shoes, I say go with what works. If you have shoes that (1) are comfortable, (2) will slide on the dance floor, and (3) will stay on your feet when you move backwards – you are good to go! For years, I danced in old worn out tennis shoes, or loafers, or moccasins, with no problems. Nowadays I tend to wear Dance Sneakers or professional Dance Boots (or loafers, moccasins, or old tennis shoes!). I also recommend Bowling Shoes, especially for people with foot problems or surgeries." - Valerie Ryan, QuickSilver Dancers
---


Introducing Dance Location, The Cedars Ranch
The Cedars Ranch is a brand new contemporary eco event space and wellness destination designed for hosting weddings, retreats and special events. Situated on twenty acres of meandering live oak and cedar trees just outside the charming Texas Hill Country town of Wimberley, and a short 45-minute drive south of Austin, The Cedars Ranch is the ideal venue to host Valerie's dance classes for the fall and winter seasons. Our great hall boosts a gorgeous wooden dance floor and large open modern design.
Help us get this dance floor broken in!! B

ook your dance lessons today!!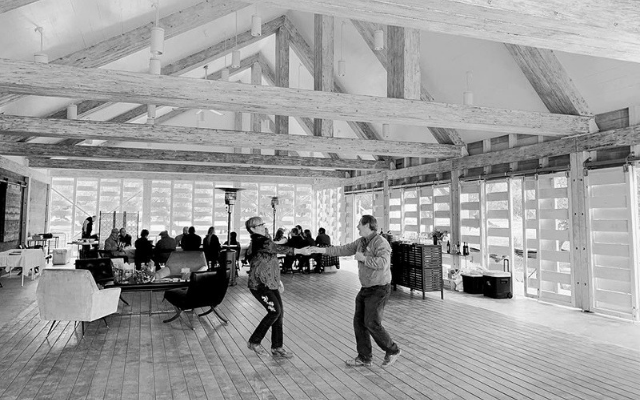 "After marrying Bill I learned to enjoy going out to dance but quickly learned I didn't have a clue how! After a few one-on-one classes with Valerie we joined a couple of classes. She is an amazing teacher - strategic, perceptive and very experienced. We knew we wanted her giving lessons in our hall!!!" - Marilyn Orr, The Cedars Ranch
---


More Dance Classes
Dance Classes in November - Swing Buffet: Jitterbug, East Coast Swing, Hustle, West Coast Swing
---


Contact Details
If you'd like additional information, feel free to reach out.
The Cedars Ranch: Marilyn & Bill Orr
512-413-3537
marilynandbill@thecedarsranch.com
Dance Teacher: Valerie Ryan
830-837-5961
valdance@att.net