WIM Presents: Syncing to Success - Placement Strategies, Monetization & Tools

Thursday, October 15, 2015 from 6:30 PM to 8:45 PM (EDT)
Event Details
Women in Music Presents: Music Licensing Panel
Free for WIM members, $15 for non-members, cash will not be accepted at the door.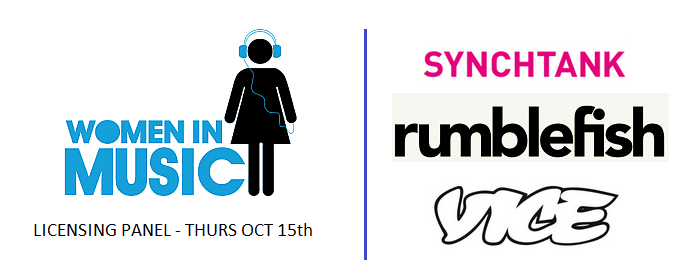 Sync licensing is a primary revenue stream for many artists. With the advent of new business models and technologies, content owners can continue to generate revenue opportunities beyond just the original placement. During this panel we'll examine the latest developments in synchronization licensing strategy, monetization, and technologies. Whether you're an independent artist or a fledgling licensing company, panelists will delve into the strategies of pitching your music, creating partnerships, landing the actual placement, and monetizing your music beyond the placement. We will discuss innovative approaches to brand partnerships and strategic syncs as well as outline major deal terms, negotiation tactics, and potential red flags for both licensees and licensors.
MODERATOR:
Jennifer Newman Sharpe, Principal Attorney JNS Law Offices/Sparkplug
Bio:
Jennifer Newman Sharpe is an entertainment, intellectual property, and start up business attorney based in New York. She works closely with creative, entrepreneurial, and innovative clients to develop strategies and negotiate agreements in order to maximize their creative opportunities, and protect and leverage their creative works. Jennifer is also VP and General Counsel of the national organization Women in Music. She has spoken at numerous conferences and schools, including SXSW, New Music Seminar, and Rio Music Buzz. Jennifer is also co-founder and General Counsel of Sparkplug, the sharing economy marketplace where musicians rent their instruments, gear, and space to each other.
PANELISTS:
Christine Bilich, Music Supervisor & Creative Music Producer.
Bio:
Christine Bilich, girl group enthusiast and soundtrack junkie, studied Music Business at New York University. During her time at NYU she was lucky enough to intern for S-Curve Records, the Prague Philharmonic Orchestra, Columbia Records and Late Night with Conan O'Brien. After a brief stint on Wall Street, Christine returned to her true passion, joining EMI Music Publishing's Strategic Marketing team and matching songs, writers and bands to brands like American Express, Old Navy,  & Nike. She then moved to EMIMP's Product & Content team where she managed catalogue masters and acquisitions including recordings from Phil Spector, Fania Records, Blue Note Records and the Pointer Sisters. After EMIMP, Christine founded and developed the Creative Licensing department at Modern Works Music Publishing, building their client list from the ground up and establishing their synch licensing marketing program.  Additionally, she is responsible for signing writers/artists like YouTube sensations the Gregory Brothers, the Toni Braxton catalogue and upcoming indie hit-makers like Sun Club, Wild Child and Elizabeth & the Catapult. Most recently, Christine was one of two Music Producers at Saatchi & Saatchi producing original scores and music supervising for brands like Tide, Chase Freedom and Cheerios.
Charlotte Von Kotze, Music Supervisor, VICE Media
Bio:
Charlotte von Kotze is a Branded MusicSupervisor handling the music creative (existing and original music) and licensing needs of VIRTUE, an internal VICE MEDIA agency covering brand strategy, creative development, production, distribution, and research. Recent notable clients include AT&T, Anheuser Busch, Smirnoff, LG, Unilever, and Ray-Ban, to name a few. In 2015 VICE won a Cannes Silver Lion for Branded, as well as a Cannes Bronze Lion 2015 for Branded Content & Entertainment.
Prior to joining the VICE family in July 2014, Charlotte was working for the French Music Export Office in NY and on branded experiential events for the 25 year-old promoter Giant Step with artists such as Q-Tip, Gilles Peterson, Santigold, Diplo, or Empire of the Sun. A music lover at heart, she also used to be an indie promoter at local Downtown Manhattan and Brooklyn venues.
Half French and German and Originally from Paris, Charlotte has been in NY since 2009.
Joel Jordan, Founder/CEO, Synchtank
Bio:
Joel T. Jordan is the founder and CEO of SynchTank, a Brooklyn and London based software company that  creates powerful cloud software to help rights holders maximize revenue, improve catalog management, and efficiently organize licensing and synchronization processes. SynchTank has over 100 clients across 5 continents, from top music publishers and record labels, to composers, distributors, managers, advertising agencies, film and TV production companies, and more, supporting some of the best-known catalogs and largest brands in the world. Over 25 years ago, Joel started a well-known punk and hardcore label with his identical twin brother,  releasing 7″ records out of his parents' South Jersey basement. This later developed into a diversified master catalog and a prolific joint venture publishing company with Rykomusic. Today he continues to enthusiastically sign new artists to this publishing catalog, and runs his popular digital and vinyl-only indie labels.Joel still firmly sticks to the DIY ethos of his early years by enabling content creators and owners to be entirely self-reliant in the management, licensing and exploitation of their catalogs.

Jessica Sobhraj, Business Affairs, Rumblefish
Bio:
A 10 year veteran of the music industry, Jessica Sobhraj currently looks after business affairs for music micro-licensing pioneers Rumblefish, where she is responsible for strategic traditional licensing and sub-licensor opportunities. Previously, Ms. Sobhraj served as the Manager of Digital Content Licensing for performing rights organization SESAC. In her role at SESAC, Ms. Sobhraj analyzed SESAC's proprietary data and licensing trends in order to improve the commercial success of SESAC's affiliates. As a music licensing executive, Ms. Sobhraj has served as a Music Clearance Executive, Music Supervisor, and Music Consultant for various independent projects. Prior to joining SESAC, Ms. Sobhraj Co-Founded Sir Groovy, an online B2B music curation and sync licensing company that provides services to major media firms (BMG, Discovery Networks, ABC, FX, MSG, Viacom, and more) where she built, maintained, and pre-cleared an impressive network of content creators that spanned 90+ countries. Ms. Sobhraj also serves on the Board of Directors of Women In Music as the Co-Chair of Fundraising.
Have questions about WIM Presents: Syncing to Success - Placement Strategies, Monetization & Tools?
Contact Women In Music
When & Where

Broadcast Music Inc
250 Greenwich Street
New York, NY 10007


Thursday, October 15, 2015 from 6:30 PM to 8:45 PM (EDT)
Add to my calendar
Organizer
Women in Music is a 501c3 nonprofit organization established in 1985 to advance the awareness, equality, diversity, heritage, opportunities, and cultural aspects of women in the musical arts and industry through education, networking resources, support, empowerment, and recognition. For more information about Women in Music, go to www.womeninmusic.org