WIM Presents: Sounds Like Copyright Infringement

Thursday, November 19, 2015 from 6:30 PM to 8:45 PM (EST)
Event Details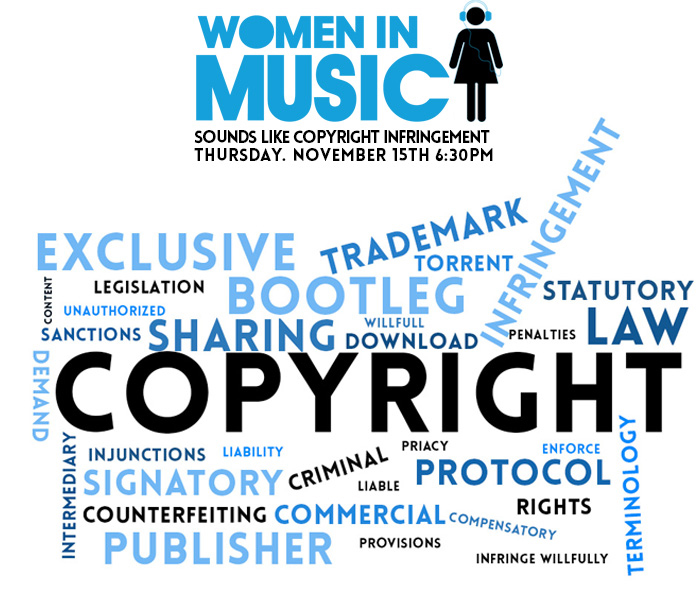 Have you ever wondered what role a musicologist plays in a copyright case? We've recently heard decisions in some landmark cases on copyright infringement, but what does it all really mean and how will these changes affect the landscape of music for creators and copyright owners?  Is there anything songwriters can do to prevent from becoming victims of copyright infringement claims?
Please join us for a "fireside chat" as we hear from experts in the field of musicology and copyright law who have participated in some of these cases and can speak on these and other related issues:
Tom Petty / Sam Smith ("Stay With Me" v "I Won't Back Down")




Robin Thicke / Marvin Gaye ("Blurred Lines" v "Got To Give It Up")

"Love Is A Wonderful Thing" Michael Bolton case

"My Sweet Lord" v "She's So Fine"




"Sweet Little Sixteen" v "Surfin' USA" 
When: Thursday, Nov. 19th from 6:30pm - 8:45pm
Where: BMI, 7 World Trade Center, 250 Greenwich St. 30th Floor
PANELISTS:  
Sandy Wilbur, President of Musiodata, is a well-established musicologist with over 20 years of experience in the field. She has served as a consultant in numerous music copyright cases, and served as an expert witness in several court trials, most recently in the "Blurred Lines" v Marvin Gaye case on the side of Pharrell Williams and Robin Thicke. Ms. Wilbur is well-known among copyright and entertainment attorneys, advertising agencies, music producers, publishers, record companies and film and television companies for her expertise in matters relating to music copyright infringement, sound-alike and public domain issues. She is frequently contracted to research, compare and contrast one piece of music with another; clear original music before it is broadcast or released; analyze samples or potential samples; research the origins and/or public domain status of a particular song; and consult with attorneys regarding potential or pending litigation. Before founding Musiodata, Ms. Wilbur was the Associate Music Director at Benton and Bowles Advertising Agency. She was educated at Yale University Music Department, Sarah Lawrence College, The University of California-Berkeley, where she was the recipient of the prestigious Hertz Fellowship in Composition, and The University of California-Los Angeles, where she earned an M.A. in Ethnomusicology.



Ross Charap is a partner in the Intellectual Property Practice Group of Akerman. For more than 40 years, the focus of his practice has been music – representing songwriters, artists, and music publishers in their transactional, licensing and litigation matters. Ross specializes in helping his clients buy and sell music assets, performing due diligence, and negotiating and drafting purchase or sales agreements. To date, Ross has closed music asset transactions worth more than $350 million. He also guides clients through complex copyright issues such as the termination of decades old copyright grants and the recapture of the copyrighted works that were the subject of those grants. And Ross is well versed in the issues now confronting copyright owners and content distributors alike vis-à-vis the digital distribution of music. He represents a major provider of music in the digital space and spent much of his early career as in-house counsel to the American Society of Composers, Authors and Publishers (ASCAP), a key player in the digital distribution world. When not focused on music, Ross also represents playwrights and theatrical producers, authors of every stripe, visual artists, television production companies and promoters of live events.

 
Please RSVP by 

Wednesday, Nov. 18th at 2pm (EST)

. Light refreshments and snacks will be served.

This event is FREE for WIM members and $15 for non-members
Not a member? Click here to sign up!
Follow us! Facebook | Twitter | Instagram | LinkedIn
When & Where

Broadcast Music Inc
250 Greenwich Street
30th Floor
New York, NY 10007


Thursday, November 19, 2015 from 6:30 PM to 8:45 PM (EST)
Add to my calendar
Organizer
Women In Music
Women in Music is a 501c3 nonprofit organization established in 1985 to advance the awareness, equality, diversity, heritage, opportunities, and cultural aspects of women in the musical arts and industry through education, networking resources, support, empowerment, and recognition. For more information about Women in Music, go to www.womeninmusic.org
WIM Presents: Sounds Like Copyright Infringement