Description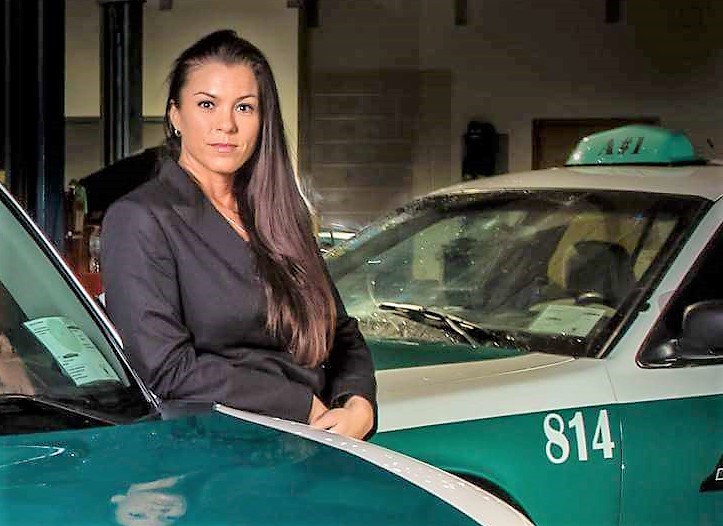 WIM Fox Valley (WIM) kicks off its year of speakers on Thursday, September 13, 2018 with Jaime Hjelm, Owner of A Taxicab Leasing Corp. (A#1 Cab Dispatch) and Co-Owner of Wicked Wrench Co.
The new meeting location for luncheons is Emmett's Brewing Co. at 128 West Main Street in West Dundee with networking at 11:30 a.m., luncheon and program at noon. Meetings adjourn at 1:00 p.m. Cost for members is $25.00 and non members - $28.00.
Sponsor for this month's meeting is Ann Louis, Louis Consulting, Inc. A CPA for over 36 years, Louis provides accounting and financial services to nonprofit organizations.
Hjelm started in the taxi business at age 15 learning dispatch communications. She dispatched weekends, holidays and summer breaks until she was 24. By the age of 19, she owned many taxicabs on the A#1 Cab Fleet, leasing them out to drivers. She learned mechanics, building all the transmissions for the taxi fleet cars for over 20 years. Hjelm ran the A#1 fleet mechanic garage for 6 years as the lead mechanic, 2008-2014.
She has helped many municipalities write and edit taxi ordinances. She is a taxi meter dealer, one of five in Illinois who can certify meters. She also gauges what the taxi rates should be, and has been doing so for almost 20 years. She personally interviews every driver that leases an A#1 Cab.
Hjelm's newest business is Wicked Wrench Co., which she owns and runs with her sister Naomi. They opened their fleet garage to the public to help people--especially women-- purchase car repairs at lower mechanical labor rates. The shop has 7 car lifts in a 9,000 square foot facility in South Elgin.
Hjelm ran for Elgin City Council in 2015 and co-hosted "Two Old Broads" on WRMN-1410am radio in 2015. She is the mother of twin 13 year old boys who are freshmen at Burlington Central High School (District 301).
"Our WIM members are successful entrepreneurs, managers, and dedicated community volunteers," said Ann Louis, 2018-19 WIM Fox Valley president. "We look forward to hearing about this outstanding entrepreneur and what is the motivation to take her business to the next level."
Louis, a Campton Hills resident, owns Louis Consulting, Inc. in Elgin, IL. She adds, "Our upcoming speakers and programs again bring top level topics and expertise to our membership. We welcome business women in the community to join us, network, and make new community connections."

Upcoming Speakers Include:
October 11: Carrie Chicoine, Iconic Allstars
November 8: Carol Gieske, Elgin Area Chamber, Melissa Hernandez, Northern Kane County Chamber and Jennifer Fukala, Elgin Downtown Neighborhood Assn.
December 13: Tony Sanders, CEO U-46
January 10: Amy Schillinger, Balance Stress Management
February 14: Nancy Effert, Effert Financial Solutions
March 14: Kyla Duewel-Brittain, Twist and Twirl (evening)
April 11: Jennifer Mercier, MD
May 2: Kathy Melone, Mutual Ground (evening)
WIM Fox Valley was founded in 1984. It is a leading women's business organization in Elgin providing professional development and business education scholarships and mentoring opportunities for area women. Members are comprised of business professionals, entrepreneurs and volunteers in a wide range of categories. Area women are invited to join. For more information visit www.wimfoxvalley.org