About this Event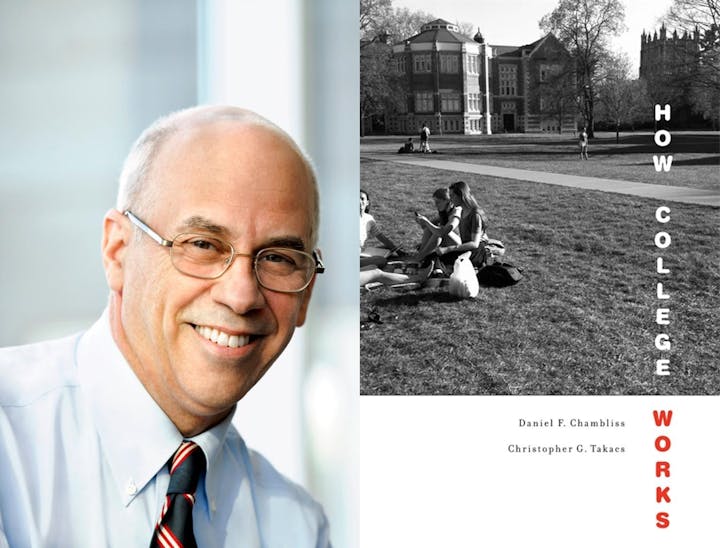 We are excited to invite you to the Wily Network's first event Wily Connects You to How College Works, sponsored by Blue Hills Bank, where we will present the Kathy and Bill Parent Award and hear from Dan Chambliss, author of How College Works.
We hope you will join us for an informative and inspirational evening about the college experience. We encourage you to bring friends.
For more information, contact Ashley Linell at ashley@thewilynetwork.org.
Meet Dan Chambliss
A member of the Hamilton College (Clinton, NY) faculty since 1981, Dan Chambliss earned Master's and Ph.D. degrees from Yale University; in 1982 his doctoral thesis received the American Sociological Association's prize for the best recent dissertation on medical sociology.
His research interests are higher education, formal organizations, social psychology and research methods, while he teaches courses from introductory sociology through senior theses, with an emphasis on social theory, social psychology, and phenomenology. Holder of two previous endowed chairs in recognition of undergraduate teaching, in 2005 Chambliss was named the inaugural holder of the Eugene M. Tobin Distinguished Professorship at Hamilton.
He is the winner of the ASA's Theory section prize for his work on organizational excellence in his widely-reprinted 1989 article, "The Mundanity of Excellence: An Ethnographic Report on Stratification and Olympic Swimmers," and is author of Champions: The Making of Olympic Swimmers, which was named the 1991 Book of the Year by the U.S. Olympic Committee. His 1996 book, Beyond Caring: Hospitals, Nurses and the Social Organization of Ethics, won the Eliot Freidson Prize for the best book of the preceding two years in medical sociology from the American Sociological Association. Chambliss is also co-author, with Russell Schutt, of Making Sense of the Social World, a research methods textbook coming out in a fifth edition in 2015, in use at over one hundred colleges and universities in the U.S. and U.K.
Chambliss is author with Christopher Takacs, his former student and now a Ph.D. candidate at the University of Chicago, of How College Works, published in February 2014 by Harvard University Press. How College Works has been named recipient of the Press's Warren and Virginia Stone Prize as the outstanding book of the year on Education and Society.
From 2002-08, Chambliss served as a Commissioner, then Member of the Executive Committee, of the Middle States Commission on Higher Education, overseeing the accreditation of more than 500 colleges and universities in the mid-Atlantic region.
Beyond his academic work, Chambliss serves as senior advisor and Research Director for LH&P, a team of consultants serving senior management (C-level) executives in Fortune 50 firms in the US and UK; he specializes in the design and analysis of internal research projects and secondary data.
Raised in Chattanooga, Tennessee, he now resides in Cazenovia, New York.
How College Works by Dan Chambliss
Constrained by shrinking budgets, can colleges do more to improve the quality of education? And can students get more out of college without paying higher tuition?
Daniel Chambliss and Christopher Takacs conclude that the limited resources of colleges and students need not diminish the undergraduate experience. How College Works reveals the surprisingly decisive role that personal relationships play in determining a student's collegiate success, and puts forward a set of small, inexpensive interventions that yield substantial improvements in educational outcomes.
At a liberal arts college in New York, the authors followed a cluster of nearly one hundred students over a span of eight years. The curricular and technological innovations beloved by administrators mattered much less than the professors and peers whom students met, especially early on. At every turning point in students' undergraduate lives, it was the people, not the programs, that proved critical. Great teachers were more important than the topics studied, and even a small number of good friendships—two or three—made a significant difference academically as well as socially.
For most students, college works best when it provides the daily motivation to learn, not just access to information. Improving higher education means focusing on the quality of a student's relationships with mentors and classmates, for when students form the right bonds, they make the most of their education.
Honoring Kathy and Bill Parent
On February 7, we will present the first annual Kathy and Bill Parent Award to a Wily Scholar.
Kathy and Bill Parent stand out in the Wily community for their thoughtful engagement in our mission and generous support of our growth.
Kathy and Bill joined the Wily community early in our development, participating in every facet of the program. They are gift givers, networkers, donors, amazing ambassadors, and creative problem solvers. Most recently, they supported Wily in becoming part of the Blue Hills Bank community by facilitating the donation of office space in West Roxbury.
The Kathy and Bill Parent Award is given to the Wily Scholar who most exemplifies the spirit and integrity that Kathy and Bill have demonstrated.
This year's Scholar exemplifies strength of character and the determination to make the most of what college life has to offer.

Thank you to our Sponsors:
Blue Hills Bank
East Meets West Catering
Lavender Florist
Night Shift Brewing
Dana Hall School
Kristie Rae Images
Jorge Ordóñez Selections