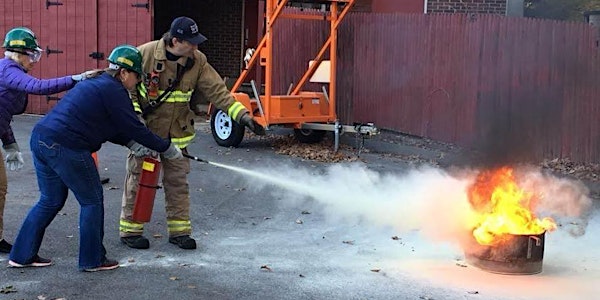 Wilton CERT Disaster Preparedness Training
When and where
Location
Comstock Community Center 180 School Road Wilton, CT 06897
Description
Wilton's volunteer Community Emergency Response Team (CERT), is holding its annual disaster preparedness training program. Citizens are invited to become trained to help family, friends and neighbors in the event of an emergency or disaster. CERT instructors, certified by the Connecticut Division of Emergency Management and Homeland Security along with other instructors from Police, Fire and EMS, will assist in the training.
The class is open to all members of the community, ages 16 or older that have an interest in learning more about Disaster Preparedness to help their own families, friends and/or community, in the event of a disaster.
The initial training is conducted over 20 hours via six sessions starting on Monday, January 20th and will continue through Monday, February 10th. Training will cover the following areas in a combination of classroom and field practical exercises:
Disaster Preparedness

Disaster Medical Operations

CERT Organization

Fire Safety; Search and Rescue (SAR)

Disaster Psychology: Terrorism & CERT
All classes will be held in Wilton at either the Comstock Community Center or the Wilton Town Hall Annex A.
Monday, Jan 20, 7 p.m.-10 p.m. at Wilton Town Hall Annex A

Saturday, Jan 25, 8 a.m.-12 p.m. at Wilton Town Hall Annex A

Monday, Jan 27, 7 p.m.-10 p.m. at Trackside Teen Center

Monday, Feb. 3, 7 p.m.-10 p.m. at Comstock Community Center

Saturday, Feb. 8, 8 a.m.-12 p.m. at Wilton Town Hall Annex A

Monday, Feb. 10, 7 p.m.-10 p.m. at Comstock Community Center
Manuals will be provided to all participants and there is no charge for this class.
Upon successful completion of the course, participants 18 or older have the opportunity to volunteer as members of Wilton CERT. Members of Wilton CERT are provided with a backpack with basic disaster gear and a Town Identification Card. Wilton CERT, as part of the Federal Emergency Management Agency (FEMA), regularly provides assistance to first responders at large emergency incidents or public events. Wilton CERT has performed a broad range of deployment activities, including missing persons searches, traffic and crowd control duties and staffing Wilton's emergency shelter and distributing emergency food and water.
All participants must be registered in advance as FEMA strictly limits class sizes.
Questions may be directed to Dave Heiden, at wiltonctcert@gmail.com