Description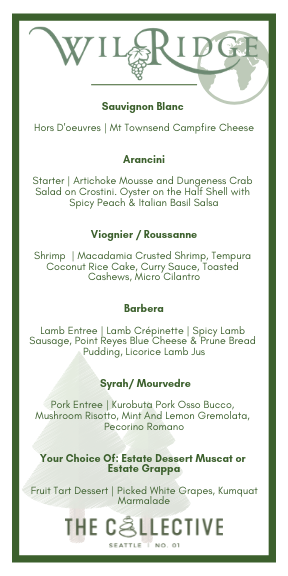 ---
Wilridge strives to be the greenest vineyard, winery & distillery in Washington, not only for the quality of its wines and spirits, but also for the impact on its surrounding habitat and future generations. With his background in environmental law, founder Paul Beveridge established a certified organic and biodynamic vineyard above Cowiche Canyon in the Naches Heights, the only Washington AVA were vineyards must be have sustainable certification. The mission of Biodynamics is to "heal the earth through agriculture." Wilridge crafts beautifully clean wines and spirits with limited intervention, while working with conservation organizations to establish a habitat that promotes biodiversity and supports endangered species like monarch butterflies and native salmon.
With his background in environmental law, Beveridge operates a certified organic and biodynamic vineyard, which includes using solar energy, composting waste, snow collection from the winery's roof, phasing plantings, no outside fertilizers and growing milkweed and sagebrush to help migrating monarch butterflies. "'If there's something we can do to be greener, we'll do it,' Beveridge said."
Wilridge works with Cowiche Canyon Conservancy to conserve and plant habitat to raise and support endangered monarch butterflies. As a biodynamic vineyard, Wilridge is a certified Salmon Safe vineyard and orchard, with cover crops to control runoff and applying natural methods to control weeds and pests.
The importance as a salmon safe vineyards has been important as runoff directly affects the Cowiche Creek, which has been a "highest priority" stream for fish recovery in Washington State.