Wilmington Lodge #804 Masonic Educational Symposium

Saturday, September 20, 2014 from 9:00 AM to 5:00 PM (EDT)
Event Details
This will be a Masonic Educational event unlike any other. For the price of admission you get three meals starting with a breakfast of donuts coffee and juice. A lunch of pulled pork and choice of sides and a full dinner, not your typical after meeting cold cuts! We have a total of four Masonic Speakers that are experts in their respective areas. These highly respected, nationally known Brothers, are Shawn M. Gorley, Master Masonic Scholar and author of "Freemasonry Defined" and writer for "The Working Tools Masonic Magazine", Master Masonic Scholar Adam T. Osman and author of "Earning Freemasonry", Charles Harper Sr. author of "Freemasonry in Black and White and Juan Sepulveda owner of the well known podcast "The Winding Stairs" as well as a member of the Youtube Masonic show "The Masonic Roundtable. Brother Sepulveda is also a prominent artist specializing in Masonic art.
This will be a day of highly entertaining speakers that will fully engage with the audience and encourage Q&A and open discussion. The respective speakers have a wealth of experience in giving presentations and talks and have all done so all over the country. This will be the first time all of them will be together under one roof at the same time and assures to be not only educational but fun. There will be several breaks throughout the day.
The seating is limited to 100 people to keep it comfortable and to also encourage visitation and meeting Brethren from all areas that will be in attendance. Unfortunately we can not offer refunds, once a ticket is purchased the sale is final, this is because of the catering so that we know exactly how much food to bring without running short.
For those of you that may be traveling great distances please look for motels in the Hermitage, Sharon and New Castle Pennsylvania areas. If there are any further questions please do not hesitate to contact the host at wilmington804fam@gmail.com and include symposium in the subject area.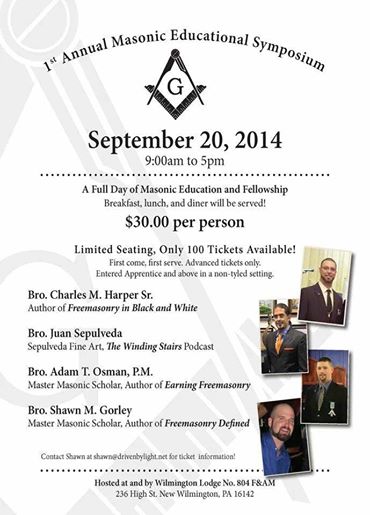 When & Where

Wilmington Lodge #804
236 High St
New Wilmington, PA 16142


Saturday, September 20, 2014 from 9:00 AM to 5:00 PM (EDT)
Add to my calendar