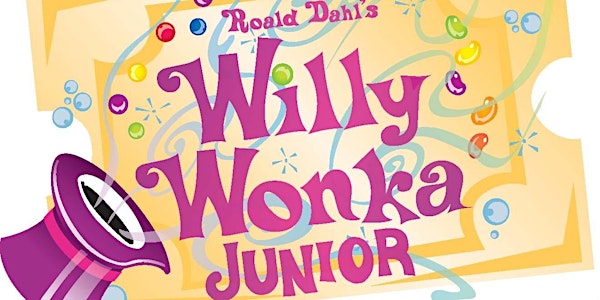 Willy Wonka Junior The Musical (Friday Night Performance)
When and where
Location
Clay Middle School 5150 East 126th Street Carmel, IN 46033
Description
Come join the student performers from Clay Middle School for an entertaining performance of Willy Wonka Junior The Musical.
This timeless story of the world-famous candy man and his quest to find an heir is a golden ticket to adventure.
The delicious adventures of Willy Wonka's chocolate factory light up the stage in this captivating adaptation of Roald Dahl's fantastical tale. Featuring the enchanting songs from the 1971 film, "Pure Imagination," "The Candy Man," "I've Got a Golden Ticket," and more of your favorites and a few new ones.

---
FAQs
How long is the show?
Approximately 90 minutes.
When should we arrive to watch the show?
Doors open at 6:30. But since Clay Choir converted to reserved seats with Eventbrite there is no need to arrive earlier to "save" seats. However, should the performance be sold out and if a seat is not claimed by 6:55 it may be re-assigned.
How can I contact the organizer with any questions?
You can contact the Ticket Committee at ClayChoir@gmail.com or Clay Middle School front desk at 317-844-7251. We are a parent volunteer committee and will respond to your email questions as quickly as possible.

Can I pay with a credit card?
Yes. Eventbrite accepts all major credit cards. Credit cards will only be accepted via the Eventbrite online site.
Can I pay cash?
Yes. Cash payments will only be accepted at school during lunchtime or At-the-Door ticket sales
Can I pay with a check?
Yes. Check payments will only be accepted at school during lunchtime box office sales. Checks should be written to "Clay Middle School."
I can't order 4 tickets, what is wrong?
If the 4 seats cannot sit together, Eventbrite won't let you order. You will have to order in smaller increments and possibly sit separately. Start with 1 seat and manually select your other seats.
Can I sit with friends or family?
Yes. However, to ensure you get seats together you must purchase all the seats through Eventbrite at the same time.

Is my ticket/seat transferrable to another show?
No. Since it is reserved seating, tickets cannot be transferred from one show to another because that same seat may already be occupied by someone. You will need to place a new order for tickets/seats in the other show then notify ClayChoir@gmail.com to cancel the original tickets.

Do I have to bring my printed ticket to the event?
Yes. To make seating easier, please bring your printed ticket so you can go immediately to your seat. You can also bring a digital copy of your tickets on your phone.

What should I do with un-used tickets?
If you cannot use some/all your seats, please notify ClayChoir@gmail.com or hand-in un-used ones in to the Ticket Table at arrival so others may use that seat, especially for sold-out shows. Un-used tickets will be re-allocated to Standby tickets.

The name on the ticket/seat doesn't match the attendee, is that okay?
Yes. A ticket buyer may purchase multiple tickets for other attendees. Please make sure each attendee has a printed ticket to make seating easier.
If the show is sold out, are there Standby tickets?
Yes. Often guests cannot attend the show and they turn in their tickets. We will make these tickets available on a first-come-first-serve basis. A list for Standby tickets will be collected at the Ticket Table. We will do our best to seat everyone who wants to see the show, though we cannot guarantee you will sit with your group or in the auditorium.
Please remember we are a parent volunteer team and will to the very best we can to accommodate guests. We greatly appreciate your patience.
What is the refund policy?
No refunds will be provided.
Thank you!
The Clay Middle School Choir & Music Ticket Committee
ClayChoir@gmail.com