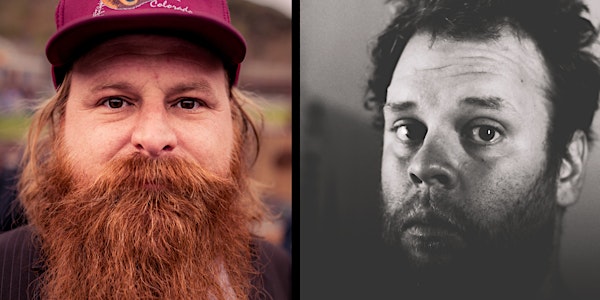 Willy Tea Taylor + Jeffery Martin
Performers
Willy Tea Taylor, Jeffery Martin
Location
The Evening Muse
3227 N. Davidson Street
Charlotte, NC 28205
For fans of Guy Clark, Sean Hayes, Bob Dylan, Gregory Alan Isakov, Peter Mulvey
About this event
Willy Tea Taylor is a father, brother, and son. His remarkable ability to sing about profound subjects in a simple way makes his songs a great place to lose yourself. Much of that comes from his upbringing.
Willy grew up surrounded by rolling hills and horses in the small town of Oakdale, California. Known as the "Cowboy Capital of the World" for breeding so many world champion rodeo cowboys, Oakdale is still Willy's home and the setting for many of his songs.
Despite coming from a long line of cattlemen – his grandfather Walt was one of the most respected of his generation – Willy's first love was baseball. As a catcher, he had a gift for the nuances of calling a game from behind the plate. When a knee injury ended his ability to catch, Willy turned his attention to music.
At the age of 18, a discerning and intimate set by Greg Brown at the Strawberry Music Festival inspired Willy to pursue life as a folk singer. Strawberry would play an integral role in Willy's development as a musician, going from spectator to stagehand, to performer. He made his main stage debut with his band the Good Luck Thrift Store Outfit at the 2009 festival. In 2015, Willy made his solo debut on the main stage. Willy has charmed fans at some of the best festivals in the country.
Willy calls John Hartford, Roscoe Holcomb, Bob Dylan, KISS, Weird Al Yankovic and Willie Nelson his biggest influences, but is always quick to advocate for his favorite contemporary songwriters which include Tom VandenAvond, Nathan Moore, and his Good Luck partner in crime, Chris Doud. He and VandenAvond have travelled the country together on a series of tours they call "Searchin' for Guy Clark's Kitchen" where each evening's show is just a precursor to an endless quest for the kind of serene late night scene depicted in the cult classic documentary Heartworn Highways.
Facebook | Instagram | Spotify
As a babe Jeffrey Martin sought out solitude as often as he could find it. He's always been that way, and he has never understood the whole phenomenon of smiling in pictures, although he is a very happy guy. One night in middle school he stayed up under the covers with a flashlight and a DiscMan, listening to Reba McEntire's 'That's the Night that the Lights Went Out in Georgia' on repeat until the DiscMan ran out of batteries. That night he became a songwriter, although he didn't actually write a song until years later. After high school he spent a few years distracting himself from having to gather up the courage to do what he knew he had to do.
Eventually he found his way to a writing degree, and then a teaching degree. He wrote most days like his life depended on it, all sorts of things, not just songs, but songs too. He fell in love with teaching high school English, which was fantastic because he never thought he'd actually come to truly love it. His students were fierce and unstoppable forces of noise and curiosity, and for all that they took from him in sleep and sense, they gave him a hundred times back in sparks and humility.
All the while he was also playing truckloads of music. There was one weekend where he flew to LA while grading essays on the plane, played two shows, and then flew back home, still grading essays, and woke up to teach at 5 am on Monday morning. It was around this time he started wondering if such a life was sustainable.
Alas, music, the tour life, was a constant raccoon scratching at the back door. Jeffrey spent nights on end sitting up in bed, and then sitting on the front porch, staring off into the dark, wondering if he could bear to leave teaching to go on tour full time. Eventually his brain caught up with what his guts had known for months. With tears in his eyes he announced to his students that he wouldn't be back the following year, and that he didn't feel right hollering at them to chase their dreams at all cost if he wasn't going to do the same.
Jeffrey Martin tours full time now. He is always making music, and he is always coming through your town. He misses teaching like you might miss a good old friend who you know you'll meet again.
Jeffrey has put out bunches of music since 2009, but he's most proud of the more recent stuff. He's fortunate to be a part of the great and loving family that is Fluff and Gravy Records in Portland, OR. "One Go Around," which released in October 2017, is his 3rd full length album. At his luckiest, he's shared shows with the likes of Sean Hayes, Gregory Alan Isakov, Courtney Marie Andrews, Jeffrey Foucault, Joe Pug, Peter Mulvey, Amanda Shires, Sean Rowe, Tracy Grammer, David Wilcox, and others.
He currently lives in Portland, OR but feels lately that it has become a secret that someone figured out how to monetize. And since he has no money of any kind, everything beautiful about the city is marred by the quiet ticking of a countdown toward the day that he'll have to find somewhere to live that doesn't require a steady bleeding fortune.