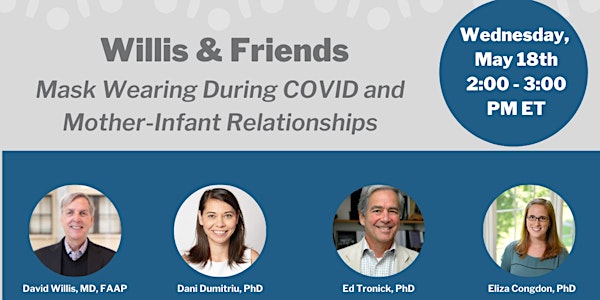 Willis & Friends: Mask Wearing during COVID & Mother-infant relationships
Willis & Friends is monthly live series on early relational health.
About this event
Pediatricians, home visitors, child development experts, and parents have all expressed concern that mask wearing during the height of the COVID epidemic might disrupt mother-infant relationships and infant development.
The opinions on this topic range from worrying to reassuring. Some of our nation's most experienced researchers of mother-infant relationships have carefully studied this question and will bring forward some of their findings and reflections to this live session.
This live session of Willis and Friends will bring together Drs. Ed Tronick, PhD, Amie Hane, PhD, and Eliza Congdon, PhD.
This event does not require a ticket and will be live streamed on Facebook and YouTube.