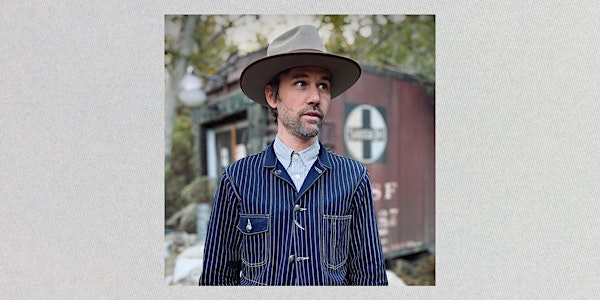 Willie Watson [Festival Of Fools] w. Wild Leek River & Beg, Steal or Borrow
Location
Nectar's
188 Main Street
Burlington, VT 05401
Join Willie Watson on Sat. August 6th for a Festival of Fools after party at Nectar's! With Wild Leek River & Beg, Steal or Borrow!
About this event
Willie Watson
A Festival of Fools After Party at Nectar's!
With Wild Leek River & Beg, Steal or Borrow!
Sat. August 6th
8:30pm
--
WILLIE WATSON
For over two decades, Willie Watson has made modern folk music rooted in older traditions. He's a folksinger in the classic sense: a singer, storyteller, and traveler, with a catalog of songs that bridge the gap between the past and present. From his early days as a founding member of the Old Crow Medicine Show to his current work as a solo artist, he is a celebrated musician with a rich vocal range, a top interpreter of the folk canon and a highly skilled multi-instrumentalist.
On the road as an active touring musician, Watson often plays alone with his soaring vocals accompanied by his guitar, banjo and harmonica, but most recently has been traveling with his new string band, featuring fellow Old Crow alum Ben Gould on upright bass, Sam Schmidt on guitar and mandolin, and Rosie Newton on fiddle.
Playing in Old Crow Medicine Show, Watson learned how to be part of a string band, but as a solo artist, he's perfected everything from gospel to blues to Appalachian folk to Irish traditional music. With his two solo albums, Folksinger Vol. 1, and Folksinger Vol. 2, both produced by David Rawlings at Acony Records in Nashville, Watson has never sounded more commanding, more confident or more connected to the music that inspires him. His albums carry on the spirit of a time nearly forgotten. They tap into the rich core of roots music and further the legacy of American folk. And perhaps most importantly, they show the full range of Willie Watson's artistry, matching his instrumental and vocal chops with a strong appreciation for the songs that have shaped a genre. "I try to take songs I can relate to and that I can sing with urgency, that I can feel," he says, humbly. "I'm just happy if people dig it."
These days, Watson juggles his time as a touring musician with his other two passions, his own clothing company, the Willie Watson Manufacturing Co., and his newest side job -- acting. He had a featured role in the Coen Brothers movie The Ballad of Buster Scruggs, where he sang the Oscar nominated song "When A Cowboy Trades His Spurs for Wings," and is currently in the Old West drama Redeeming Love.
--
WILD LEEK RIVER
Hailing from Northern Vermont, Wild Leek River is a regular 5-piece country band. The songs they play vibrate with sounds of new and old, steady back-beats and good stories. Their style and performances trace its roots from the honky tonks of days gone by, with rowdy shows across Vermont and throughout the Northeast.
In the release of their self-titled debut LP in 2021, they cultivated and honed in on the sound first sketched out in their 2019 release, "The Bacon EP." The band also took to recording songs by local Vermont Artists and other friends made along the way. On the LP, they perform versions of "Molly Bootlegger" by Jeremy Sicily of Beg, Steal or Borrow and "Good Intentions" by local VT legend Johnny Davis. Rumor has it that the band will also be heading back into the studio in 2022 to cut another full-length LP. Stay tuned, y'all.
--
BEG, STEAL OR BORROW
Beg, Steal, or Borrow got its start recreating the iconic Old and In the Way album in 2013 at Higher Ground in Burlington, VT. Since their debut, they have developed a passionate regional following and broadened their repertoire to include a deep list of classic covers as well as original songs and instrumentals, many of which are featured on their 2019 full-length CD, Old Mountain Time. They've headlined at top venues throughout northern New England and have appeared at many of the leading east coast festivals including Greyfox, Podunk, Green Mountain Bluegrass and Roots, Thomas Point Beach, Ossipee, Jenny Brook, and Winter WonderGrass, winning three band competitions along the way. Most recently, the band played the Garcia's stage at the Capitol Theatre in Port Chester, NY, opening two shows for Billy Strings.