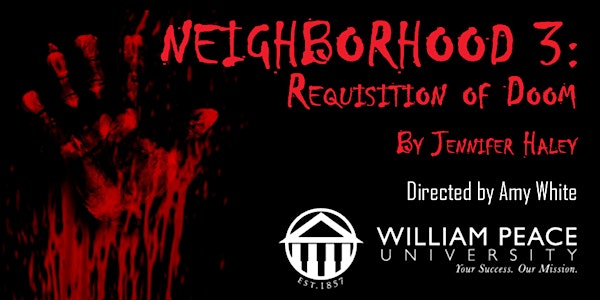 William Peace Theatre - Neighborhood 3: Requisition of Doom
When and where
Location
Leggett Theatre at William Peace University 15 East Peace Street Raleigh, NC 27604
Description
The William Peace Theatre Company presents its season opener, Neighborhood 3: Requisition of Doom, the full-length dark comedy by Jennifer Haley in partnership with Samuel French, Inc.
In a suburban subdivision with identical houses, parents find their teenagers addicted to an online horror video game.
The game setting? A subdivision with identical houses.
The goal? Smash through an army of zombies to escape the neighborhood for good.
But as the line blurs between virtual and reality, both parents and players realize that fear has a life of its own.
"Playing like a nifty episode of The Twilight Zone, the story builds to an affectingly gruesome finale..." - Variety Magazine
"When our player pounds on the video door, and we hear the bang on his own front door, it's genuinely, brilliantly chilling." - Denver Post
"Haley's suspenseful play beamed cautionary messages about inattentive parents of teenagers addicted to online video games. A sense of unease about the diminishing line between real life and virtual reality lingered for days after the suburban zombies in Neighborhood 3 were vanquished with weed whackers and hedge clippers." - Louisville Courier-Journal
Winner! 2009 Primus Citations from the American Theatre Critics Association
Show runs Oct. 22-24, 2015 at 7:30 p.m. and Oct. 24-25, 2015 at 2:00 pm.

Tickets: $5 teens / $10 seniors and alumni / $15 adults

Show is Rated-M for mature audiences only (age 17+).

Seating: General Admission

Show runs approximately 90 minutes

William Peace University wishes to make every event accessible to all people in accordance with the Americans with Disabilities Act. If you need a reasonable accommodation to fully participate in this event please contact the Office of Engagement at 919.508.2362. Please make your needs known as soon as possible to allow sufficient time for effective accommodations, preferably at least 5 business days prior to the event.