William Fox at The Interval: Into the Anthroposcenic

Tuesday, April 5, 2016 from 6:30 PM to 8:30 PM (PDT)
Event Details
The Long Now Foundation welcomes
William L. Fox (author, curator)
"Into the Anthroposcenic:
 The Evolving Culture of the Man-made Age"
@ The Interval at Long Now: check-in begins at 6:30; talk will start at 7:30 
William Fox's book Aereality will be on sale and he will sign it after the talk

Join us afterwards for drinks and conversation with our speaker
If the Anthropocene is how we label our current geologic epoch, then its cultural corollary is the Anthroposcenic, an era in which our understanding of nature and culture are re-integrated.  William L Fox, head of the Nevada Museum of Art's Center for Art + Environment will trace how artists and architects are shaping the most important debate of the early 21st century, which is not whether to geo-engineer the planet, but rather how we will change the way in which we are going about this global project.
Long Now members can access a free livestream of this event online. The Studio of Edward Burtynsky is sponsoring The Interval's live audio stream in 02016. Mercury Films and Studio Burtynsky's forthcoming project Anthropocene (02017) looks at how civilization has re-engineered the world in ways that will persist into geological time. Their support enables us to stream these events for our members all over the world.
Become a member for access to live audio streams of our Seminars and Interval events.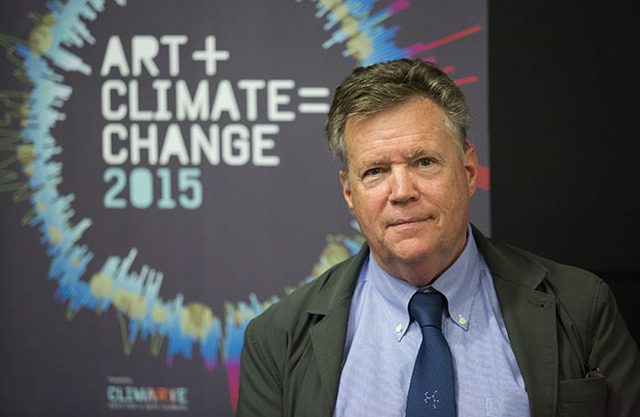 photo by creativecowboyfilms.com

A wide-ranging author as a poet and critic, Fox writes about topics including art, landscape, and the imagination. His expertise ranges from ancient Australian Aboriginal art to the most recent Land Art. He leads the Nevada Art Museum's Center for Art + Environment which is dedicated to supporting the practice, study, and awareness of creative interactions between people and their environments. His books bring new viewpoints to landscapes of Antarctica, Los Angeles, the Black Rock Desert, amongst many others. Fox's perspective is informed by extensive travels around the world and throughout his native Nevada and the larger Great Basin.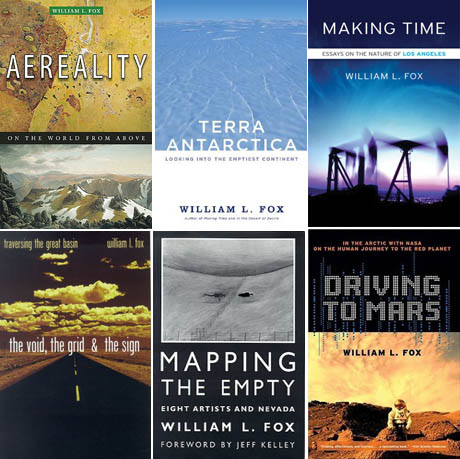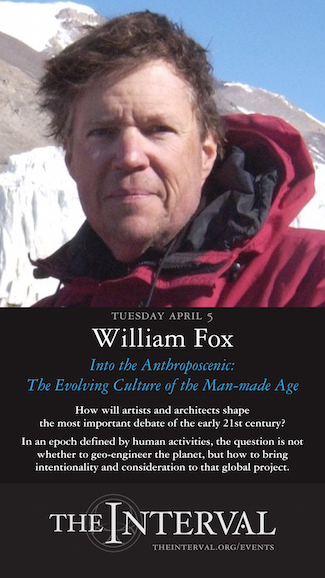 William L. Fox is a writer whose work is a sustained inquiry into how human cognition transforms land into landscape. His numerous nonfiction books rely upon fieldwork with artists and scientists in extreme environments to provide the narratives through which he conducts his investigations. He also serves as the Director of the Center for Art + Environment at the Nevada Museum of Art in Reno.
Fox has published poems, articles, reviews, and essays in more than seventy magazines, has had fifteen collections of poetry published in three countries, and has written eleven nonfiction books about the relationships among art, cognition, and landscape. He has also authored essays for numerous exhibition catalogs and artists' monographs. In the visual arts, Fox has exhibited text works in more than two dozen group and solo exhibitions in seven countries.
In 02001-02 he spent two-and-a-half months in the Antarctic with the National Science Foundation in the Antarctic Visiting Artists and Writers Program. He has also worked as a team member of the NASA Haughton-Mars Project, which tests methods of exploring Mars on Devon Island in the Canadian High Arctic. He was a visiting scholar at the Getty Research Institute, the Clark Institute, the Australian National University and the National Museum of Australia. He has also twice been a Lannan Foundation writer-in-residence.

Join us for a talk on how art, architecture, and nature intertwine in a man-made age...

Long Now members hear about Interval events first: become a member today
When & Where

The Interval at Long Now
Fort Mason Center
2 Marina Blvd
San Francisco, CA 94123


Tuesday, April 5, 2016 from 6:30 PM to 8:30 PM (PDT)
Add to my calendar
Organizer
The Interval at Long Now is a bar, cafe and venue for talks and other gatherings located in historic Fort Mason Center on San Francisco's north shore within site of the Golden Gate Bridge and Alcatraz. The Interval serves delicious beverages in a room full of mechanical wonders and thousands of books.
We are open daily from 10AM to midnight. Events are typically on Tuesday nights a few times a month. Tickets usually go on sale 2 weeks prior to the event. Our talks tend to sell out quickly due to our limited capacity.
Long Now members can purchase tickets before the general public.
The Interval is home to The Long Now Foundation which is dedicated to long-term thinking through projects including building a 10,000-year Clock, the monthly Seminars About Long-term Thinking (SALT), The Rosetta Project, PanLex, and Revive & Restore.