About this Event
WILLIAM FITZSIMMONS – MISSION BELL(Biography) Singer-songwriter and music producer William Fitzsimmons' latest record, Mission Bell is a chronicling of the tumultuous last year of his life, particularly of the separation from his second wife. An initial version of the album was originally recorded in Fitzsimmons' home studio in the summer of 2017 but was subsequently abandoned during the course of, and as a result of, the separation.
In 2018 William traveled to Nashville, TN to start recording the album over from square one. Working with producer Adam Landry (Deer Tick, Los Lobos, k.d. Lang, Vanessa Carlton), Fitzsimmons spent a month's time rebuilding the lost record, with contributions from friends, including Abby Gundersen and Rosie Thomas. The resulting 11-song album tells the story of a decade-long marriage destroyed and eventually rebuilt from the ground up.
The process and the results are both painful and healing, but also respect the complexity of humans, especially at their worst. This is not an exercise in "good-guy, bad-guy" songwriting; rather an attempt to find empathy, even when people are at their most depraved. Mission Bell includes songs about betrayal, but also reconciliation and forgiveness. Choosing to go deeper than mere absolutism and fate, these are stories of people doing their best, but still managing to often destroy each other in the process.
"Having to let go of the first version of this record was incredibly strange and something I've never done before. But it was the right thing to do. That record was made at a time when nearly all involved, including myself, were living dishonestly and selfishly and poorly, and it was clear in the results. When I was forced to see the truth of how rotten things had become inside and around me, I deleted every note and every word. My dear friend and manager, Rishon, connected me with producer Adam Landry, and together the two of us spent weeks upon weeks breathing back life into a project that I thought was lost for good. By the time we finished, I felt like I had reclaimed something that was taken from me and I remain terribly proud of this work as a result," says Fitzsimmons.
Sonically, Mission Bell is Fitzsimmons' first analog tape-centric album. The sounds are raw, real, and tangible. The familiar comforts of acoustic guitars are present but now joined generously by synthesizers, electric guitars, drum loops and violins.
"Cutting to tape was new and honestly rather terrifying to me. There's no "we'll fix that in post" kind of shit going on. What you play is what you're gonna hear on the record. But there's a specialness you get in a performance when you don't have a parachute. You either play it like it matters to you or you don't and I think that comes through so clearly in the recordings."
The title of singer-songwriter Eddie Berman's new album, Before the Bridge, refers to the period of time in the LA-based musician's life between getting married and the birth of his first child. It was that span, spent mulling the decision (and consequences) of creating a life, that also inspired this crowning musical work. The album was written and recorded during that one-year interim, as Berman was coming down from the crest of his lauded 2014 self-released debut LP, Polyhymnia. The songs on Before the Bridge draw, more than ever before, from Berman's own life experiences, resulting in a rich, evocative, and moving collection.
"My wife and I were being confronted with the somewhat unknowable complexities of trying to bring a life into the world—and specifically into the little sphere of our lives, living in Los Angeles in 2016," Berman says. "My writing falls between being autobiographical, narrative, and a bit obtuse—but each of these songs were certainly informed by my own life."
Berman grew up in Southern California and taught himself guitar and piano. He fell in love with the troubadour styles of Bob Dylan and Dave Van Ronk as a teenager and learned to fingerpick on his father's 1950s Martin guitar, first writing his own songs as a college student at Berkeley. He made waves in the acoustic music world half a decade ago when his bedroom demos were given significant airplay on influential LA radio station KCRW. In 2013 his EP Blood & Rust, featuring duets with British artist Laura Marling, along with his subsequent international tours, connected him to an even bigger audience. All the while, Berman steadily developed his craft while staying true to a familiar formula.
Despite an open-tuning change and adding a bit more percussion and harmony, the sound of Before the Bridge retains the stark, elemental power of Berman's former work. "I love the sound of just a person with their instrument and their voice," Berman says. "That's always been what's spoken to me the most." In addition to that foremost calling card, the album was recorded with his same crew of expert musicians from Polyhymnia: Gabe Feenberg, Gabe Davis, Sarah Pigion, and Polly Hall, with engineer/mixer Pierre De Reeder—and in the same manner: tracked live, together in a single room, in only two days.
The first song Berman wrote and completed for the album is the stark and lovely "Joann," with its lilting harmonies and melodic, reverberating finger-picking. In addition to being the first release from the album, the track also represents for Berman the core of what Bridge is all about, as the song shares its name with his wife—well, almost. "When I was writing the chorus, the three-syllable 'Joanna' just didn't quite work. So I feel like: glass half-full I wrote a song for my wife, glass half-empty: I got her name wrong."
Another standout track, "Untamed," is a soft and slow-burning number led by Berman's guitar and confident, quiet vocal delivery, and accented by piano notes and low, stirring strings. In Berman's finger-picking style, the song ends with the delicate delivery of the line "We'll know we were alive once and at least for a moment untamed." Like "Joann" before it, he identifies the sentiment as one examining the notion of modernity closing in on them.
"It's about the strange isolation of a metropolis, which is only getting intensified by people being sucked further and further into this dystopian obsession with media, paired with the feelings of wanting to escape it, but not knowing how or where or if that's even possible anymore."
"Easy Rider" is a toe-tapping, steady strum through some of Berman's most assured vocals to date. Piano rolls trickle throughout and as Berman's smoky voice is joined by his backing crowd in the "Come on, you easy rider" refrain, it's easy to imagine the song filling some lamplit cabin in deep woods or floating out of your car stereo as you drive up the coast.
Steeped among its moments of direct beauty and questioning laments, Bridge is filled with sly nods and thoughtful references—take the minor keyed, yet upbeat, cautionary track "Tarmac Blues," the title itself an anagram for a favorite philosopher/writer. Berman allows that his songwriting is quite dense, and he relishes the chance to inject his wit and thoughtful observations into his lines. By the time the album ends with the gorgeous, fiddle-laden "My Will Be Done" and its farewell delivery ("So love me just enough to miss me, but not enough to track me down"), it's clear that there is as much to enjoy in Berman's well-crafted lyrics as there is in his instrumental prowess.
And so we have Before the Bridge, a triumphant take on a familiar foray from an accomplished singer-songwriter encouraged by a decision to rise to the challenges of creation.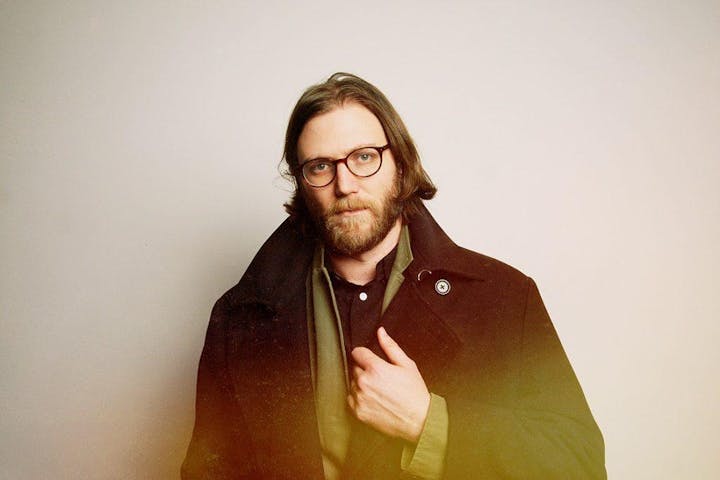 Performers
Date and Time
Location
Refund Policy